Floppy cleaning experiment
Experiment time! Will cleaning these old floppy disks with rubbing alcohol make them readable? (photo thread)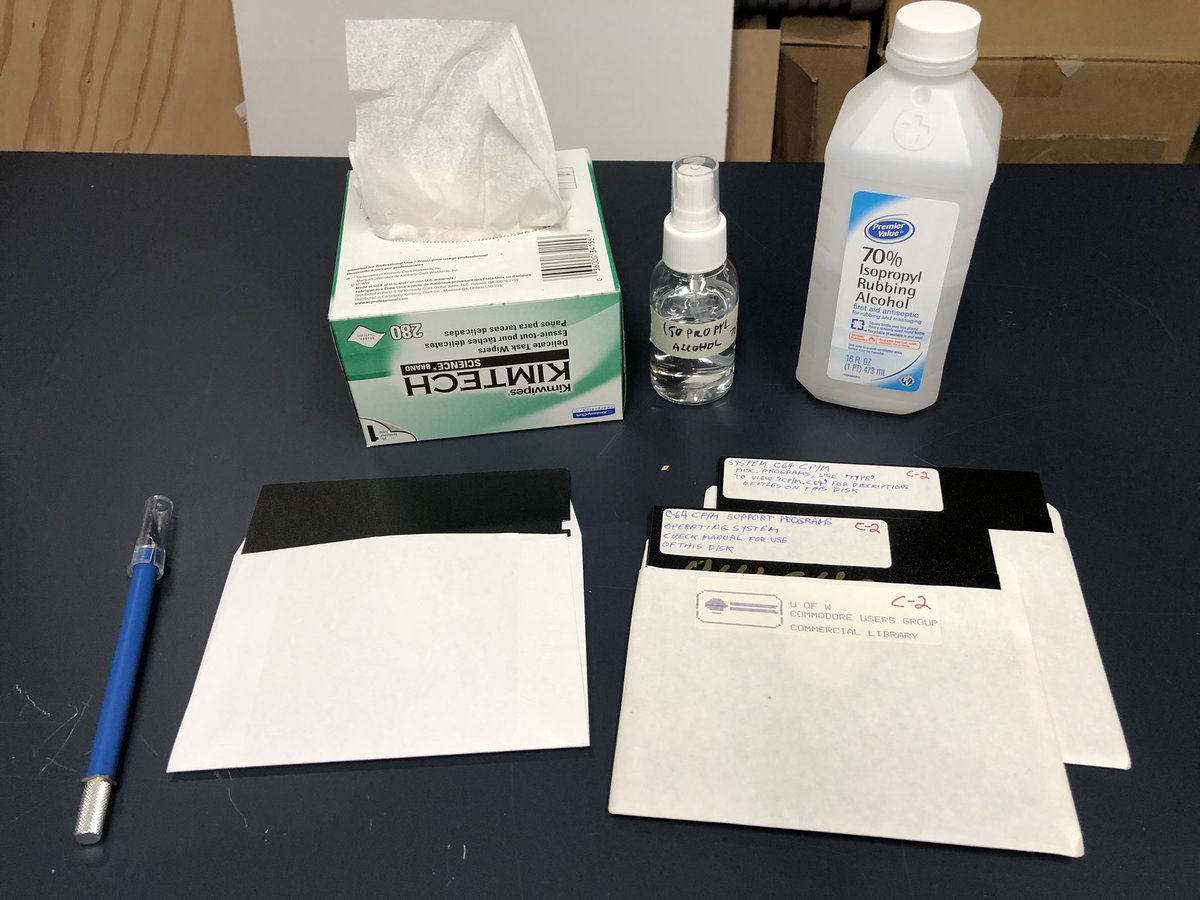 You may recall that last year I had the privilege of rescuing the University of Washington Commodore Users Group lending library. Thousands of disks that couldn't be kept in good condition, with mold and oxidization issues. Could it be saved? twitter.com/dan_sanderson/…
I tried loading a few disks and quickly discovered that you can't just stick them in a drive. With this kind of degradation, any attempt to use them without special care can damage the drive and destroy the disk. twitter.com/dan_sanderson/…
So let's try something: Here is an old disk from the lot. The medium is not as shiny as it would be new, with some patterned schmutz on the surface. Compare it to this new old stock floppy removed from its sleeve. It's fine that the colors are different, but the shine is clear.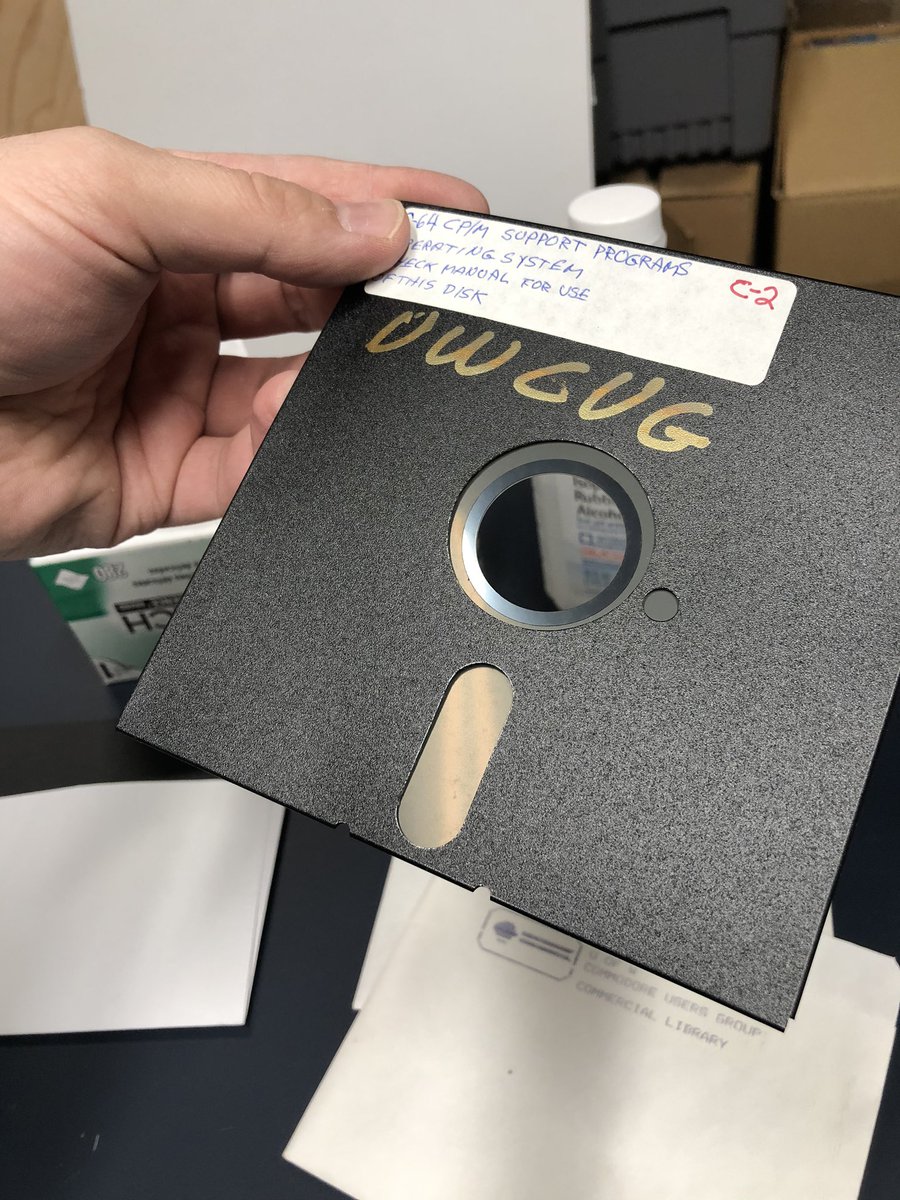 I cut open the original disk's case and removed the media, which is clearly dirty, esp compared to the new. I used KimWipes and alcohol, gently pulling inside to out, never in a circle. Disappointingly a couldn't get major splotches out, but it improved the overall shine a bit.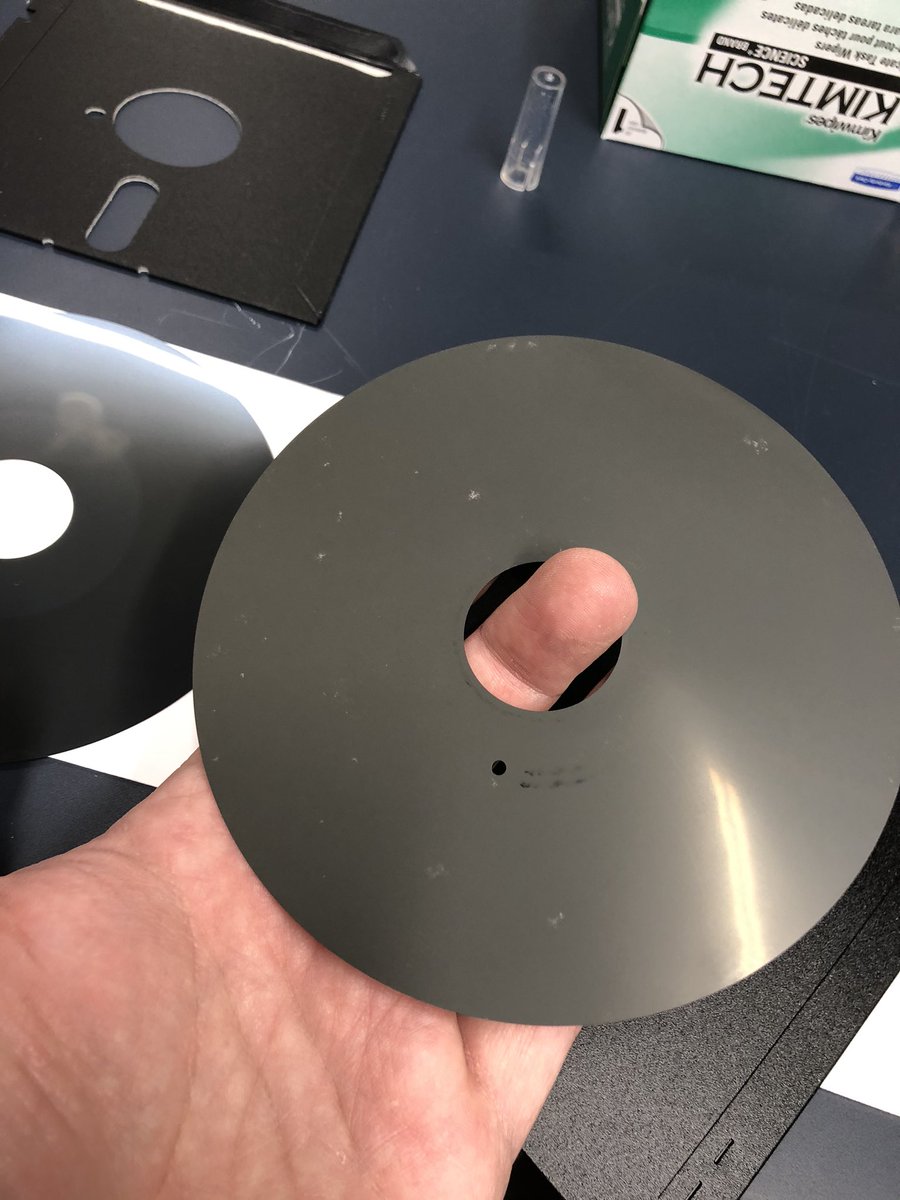 I then put the old medium in the case of the new old stock floppy. This is a good idea if you're really trying to restore the original media for continued use, but maybe overkill for me as I just need it to last long enough to scan the data.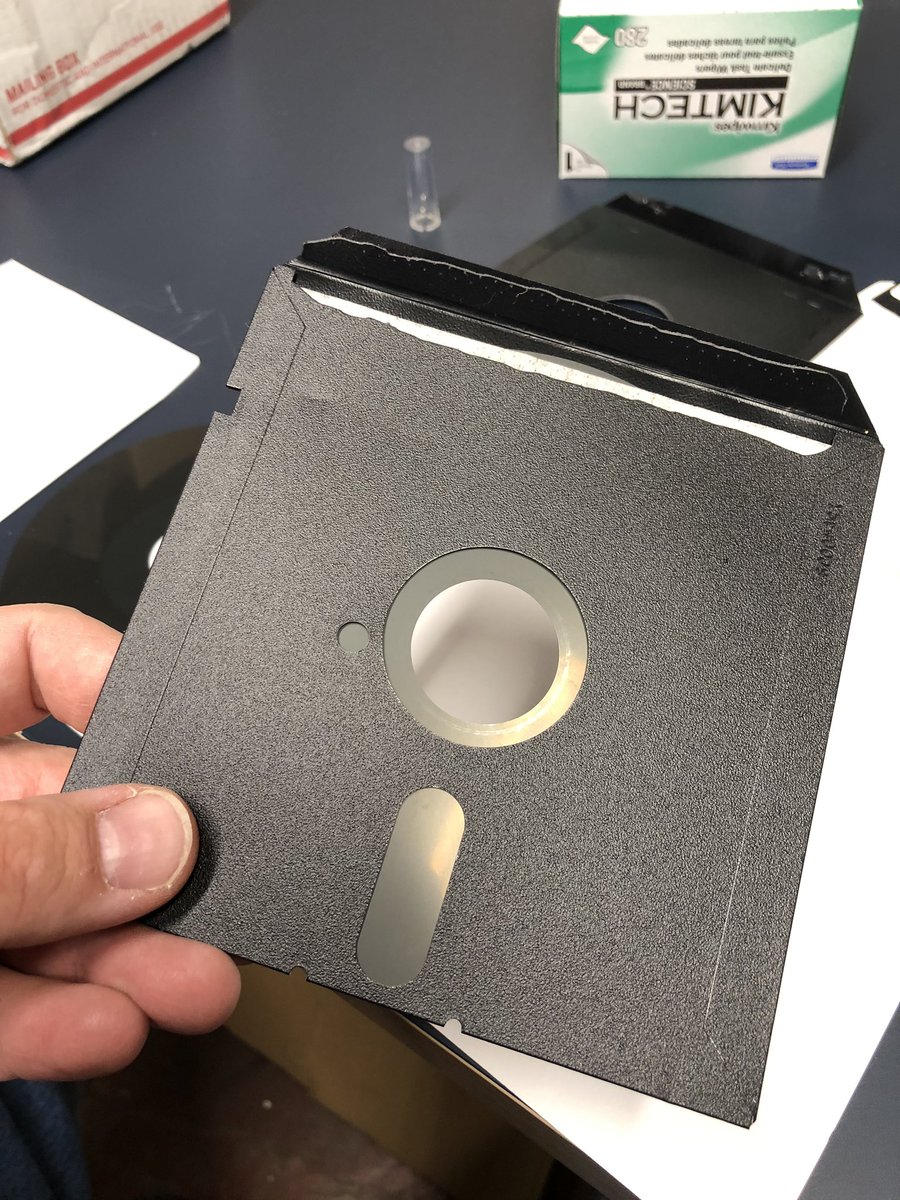 The moment of truth… success! The drive heads glide with a gentle purr, and the disks work great. These are Commodore 64 CP/M disks (old backups), shown here with an original Z80 cartridge. One of the coolest finds in the lot.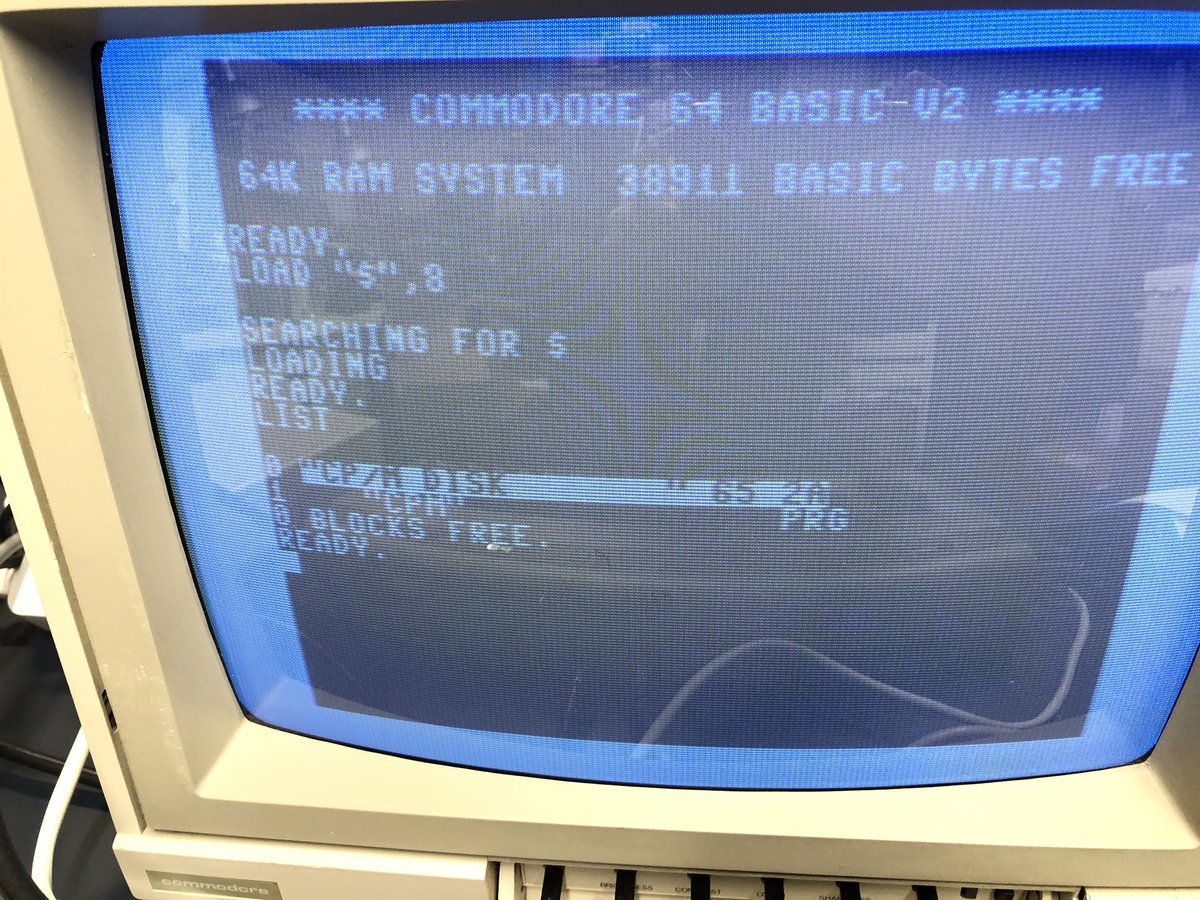 Based on the overall condition of the lot and the high error rate with un-cleaned disks, I'm confident that the cleaning was necessary to get these to work. I can probably get the cut-clean-scan process to less than 5 minutes per disk, if I'm not trying to preserve the media.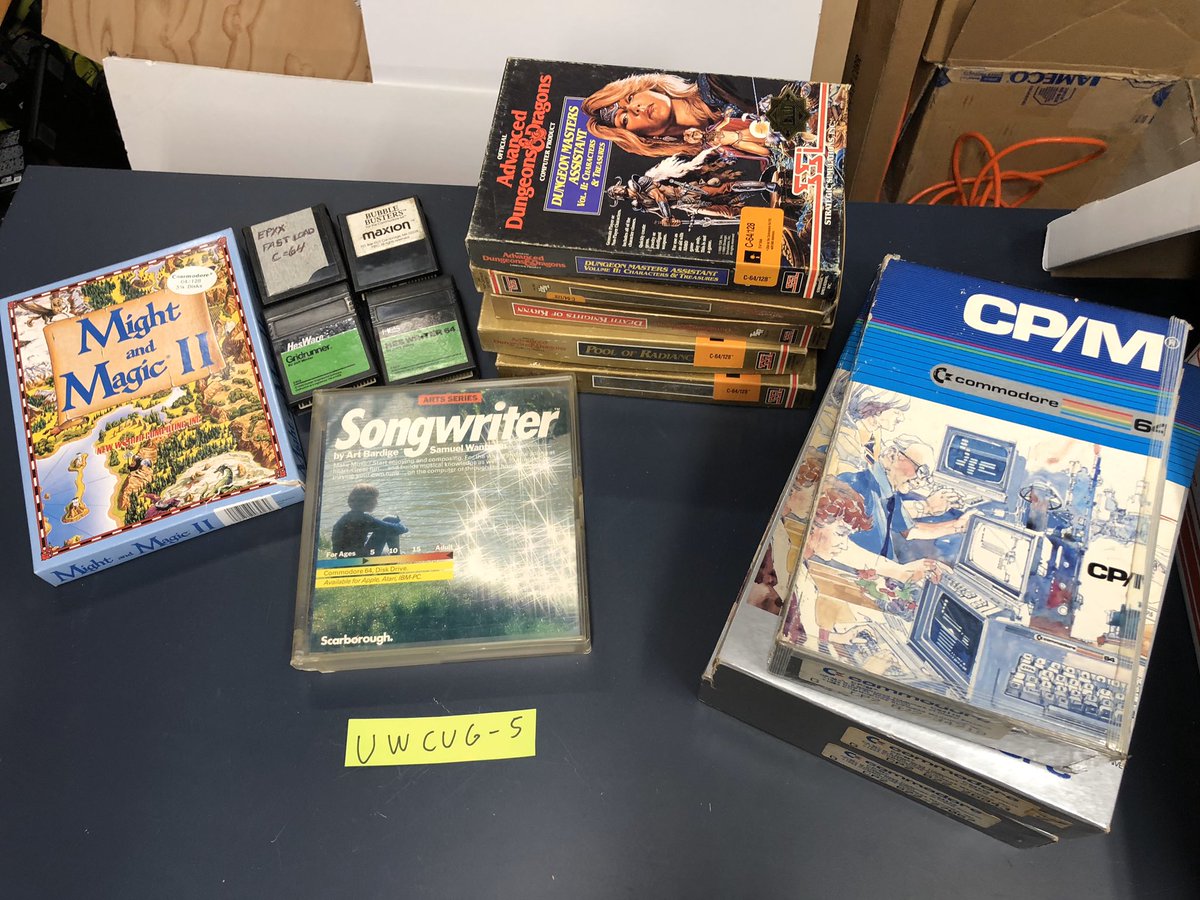 The lot is over 2000+ disks, or 166+ hours of cleaning and scanning. I'd guess that 20% is original commercial media, 70% is backups, and 10% is maybe unique data if the labels are accurate. I'd bet most of the software already has clean scans online from other sources.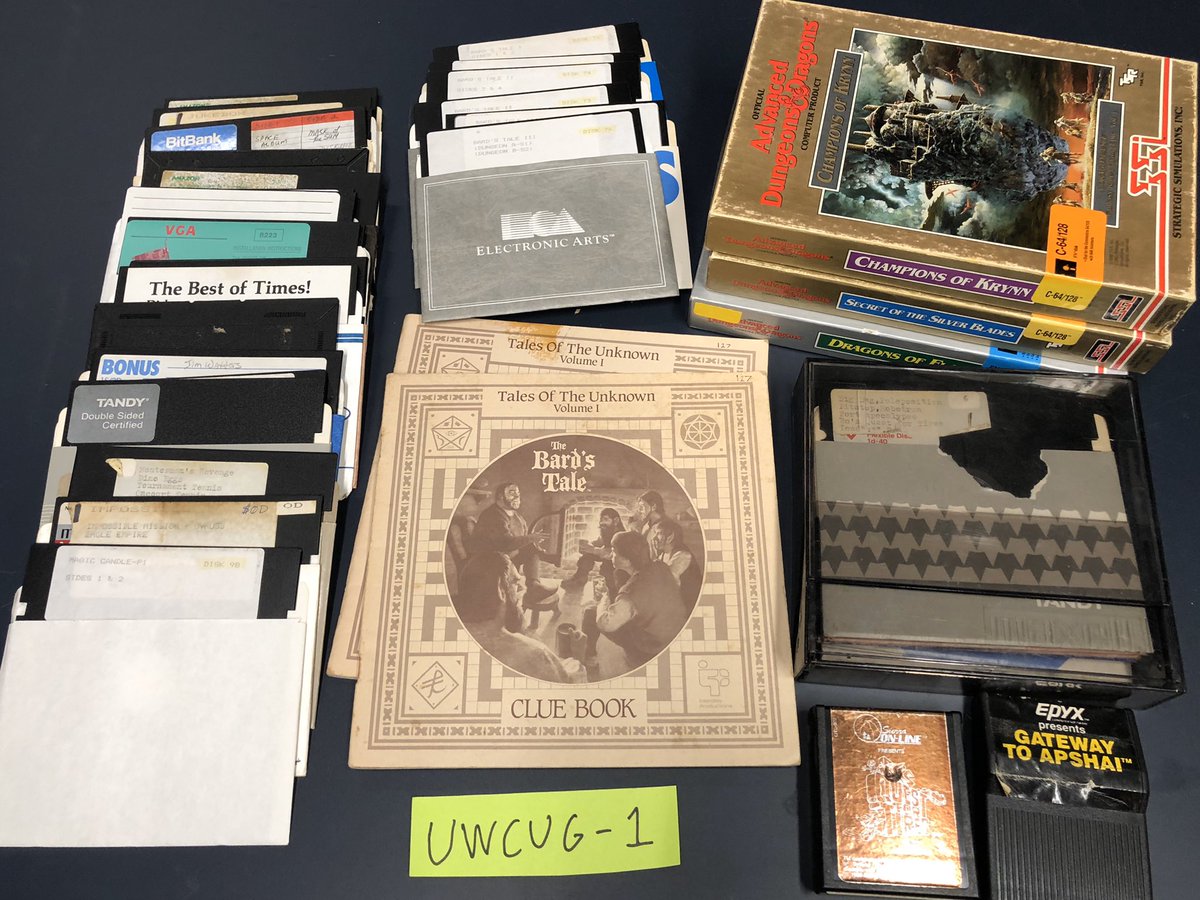 My first attempt worked well enough to read the disks, but did not result in a preservation-worthy restoration of the original media. The cases don't exactly open and close cleanly. A better restoration would be to scan the data, write it to fresh media, then recreate labels.
Advice welcome! I can probably only afford digital preservation: clean, scan, and trash the media, and probably not all of it. Worst case, I can't afford any of this and have to find another steward, or just let it all go to the landfill. If there's a higher road, let me know.
(Originally posted to Twitter on March 8, 2020. It received 7 likes.)