Huge retro haul! University of Washington Commodore User's Group
Huge retro haul! Very long photo thread follows. I brought back a minivan full of stuff from @RayCarlsenPSU's place! Ray makes brand new Commodore power supplies and fixes Commodore monitors, and was cleaning house.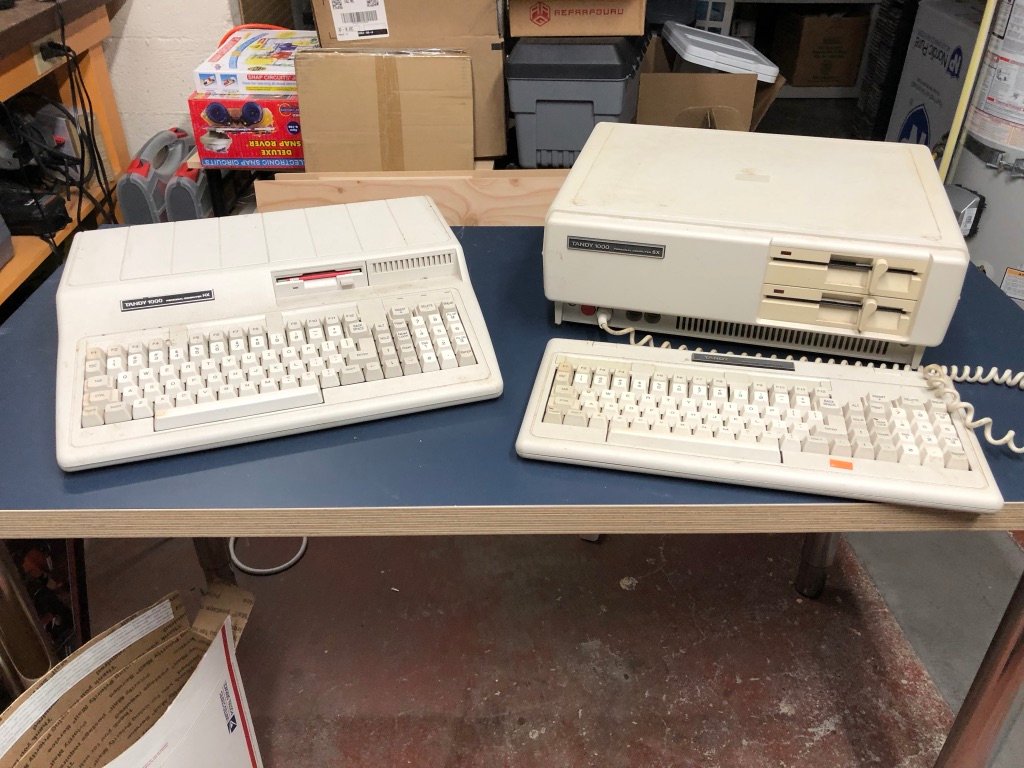 Let's start with two Tandy 1000's, one HX and one SX, and a box of printers. Everything I'm posting here was stored in poor conditions and has not yet been cleaned tested, but for retro lust purposes you can imagine it all works perfectly.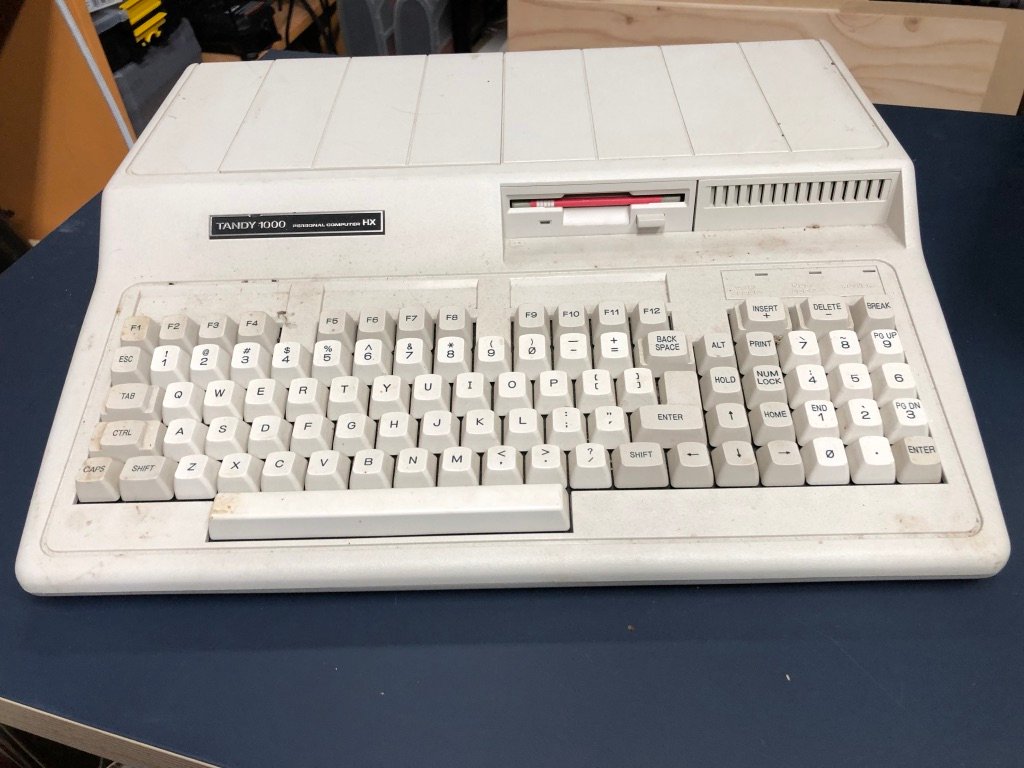 A closer look at the printers: an Okimate 10 with cartridges in box, a Commodore MPS 803, a VIC 1525 with ribbons in box, and, uh, a Star SL-10C that spent its last days supporting the other printers.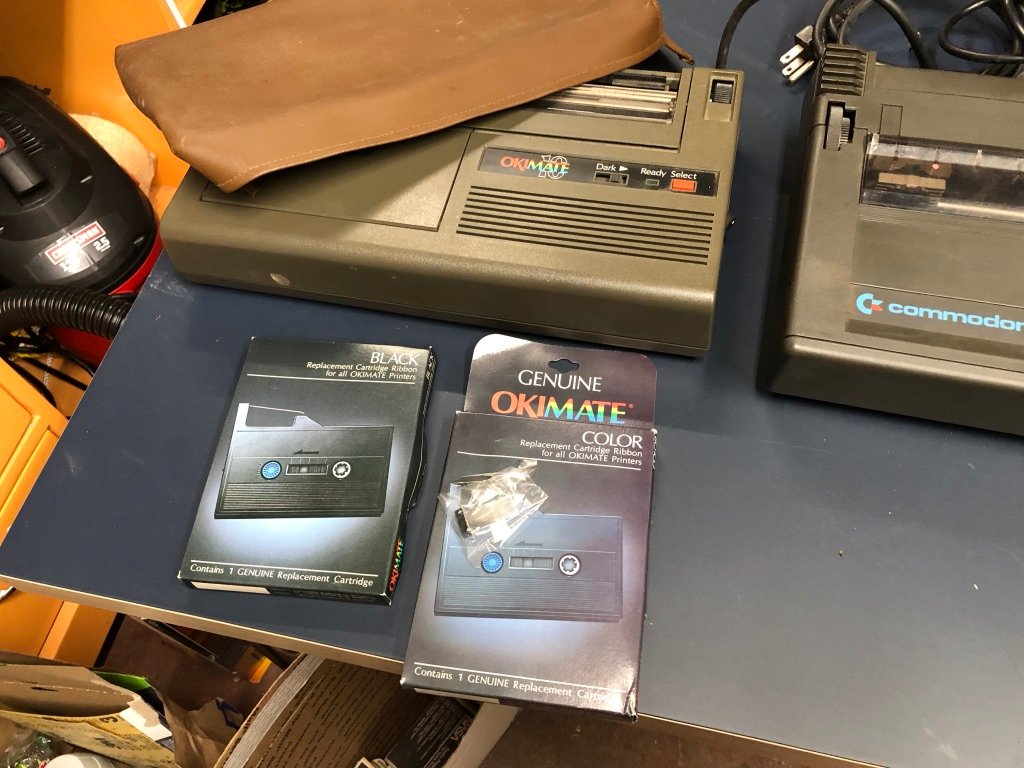 6x parts bins! Blue metal with plastic drawers that don't slide out unless you want them to. Loads better than the plastic parts bins I buy today. I can't wait to clean these up and load them. One of my favorite finds in the stack!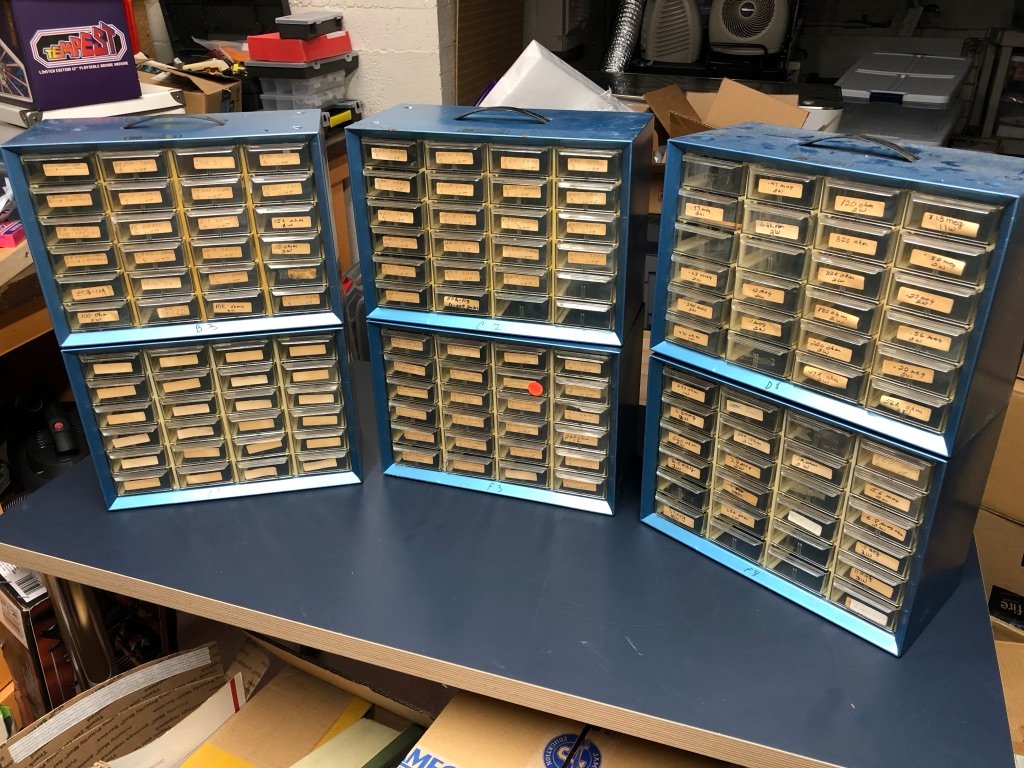 One more printer, an Okimate 20 in what looks like mint condition, in box. If I can get this one working it'd be my go-to retro printer toy based on its condition.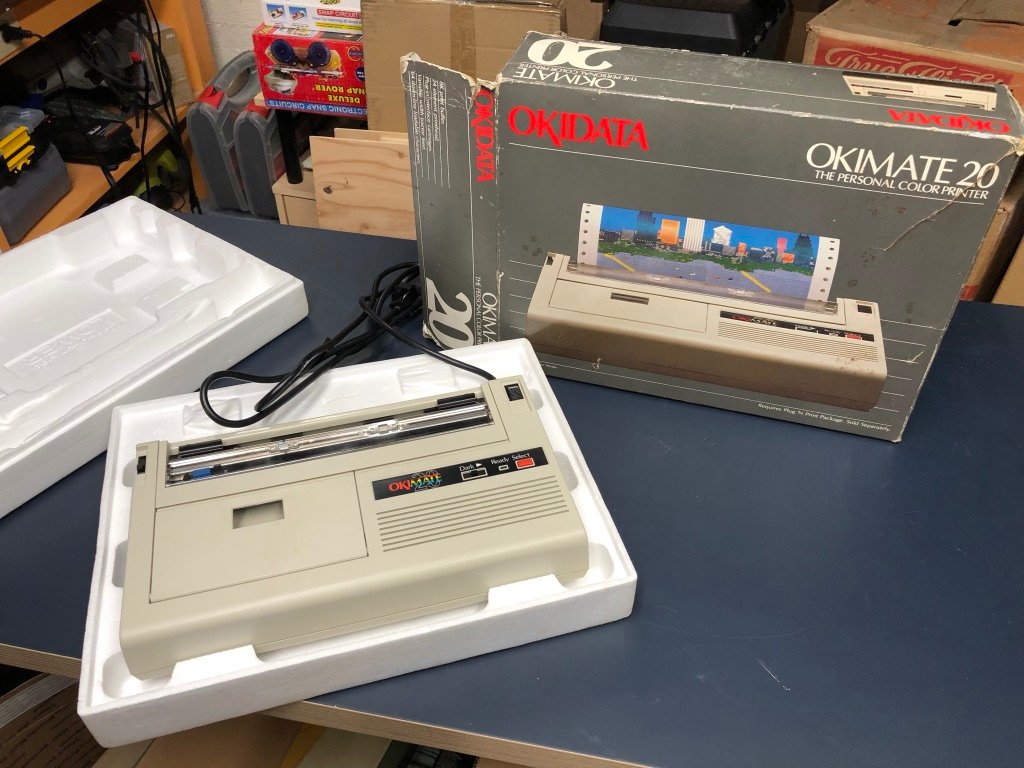 Starting in on some software: Zorks I, II, and III, with Invisiclues. Unless noted otherwise all software is on floppy and for the Commodore 64. I don't see the Zork I disk here but this lot came with a huge number of loose disks so it's probably in there.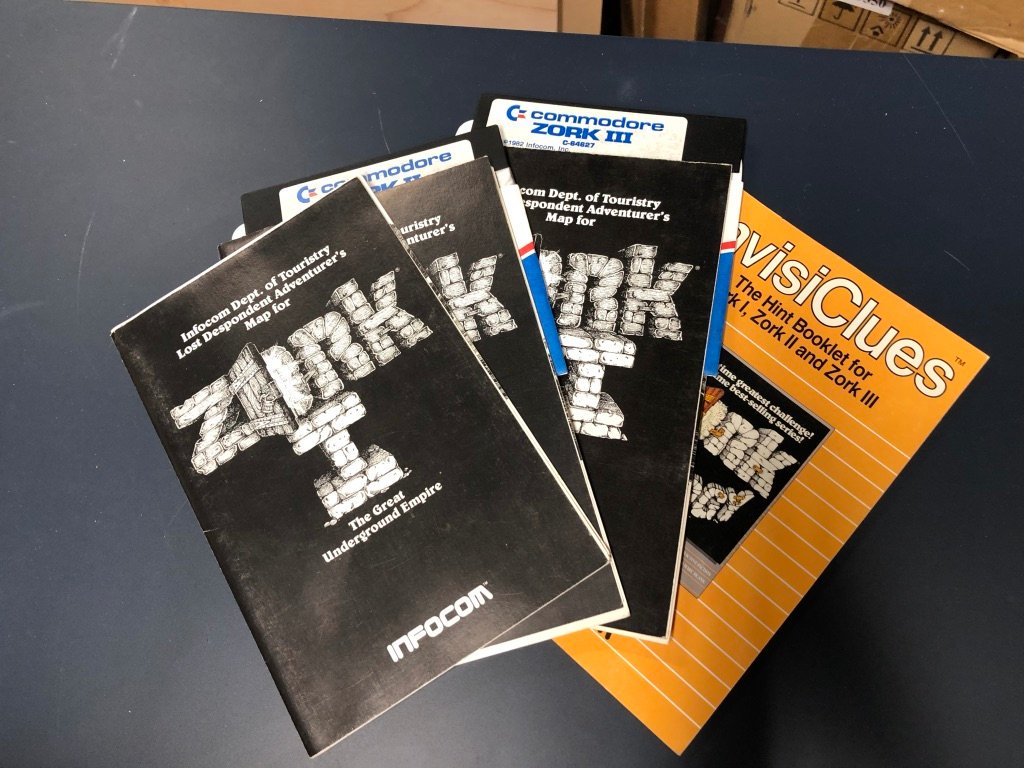 The Book of Adventure Games by Kim Schuette is a hint guide for a bunch of major text adventures of the time, with maps.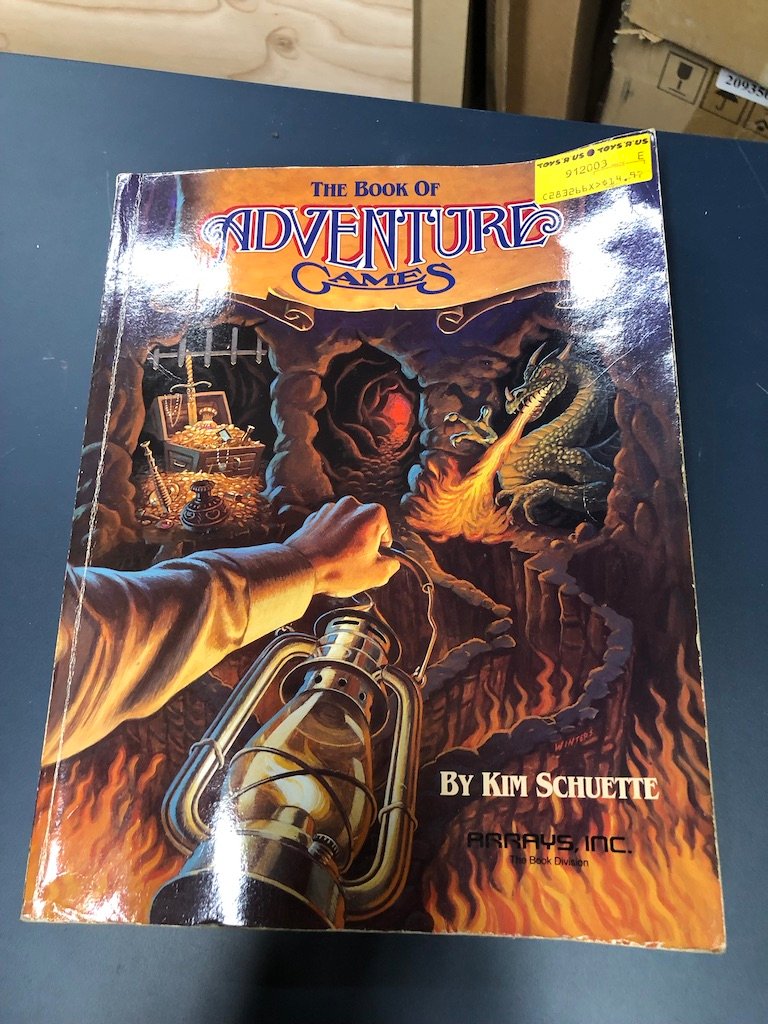 Two really nicely packaged desktop publishing giants: The Print Shop by Broderbund, and Personal Newsletter by Softsync, Inc. I owned and used both of these in my childhood.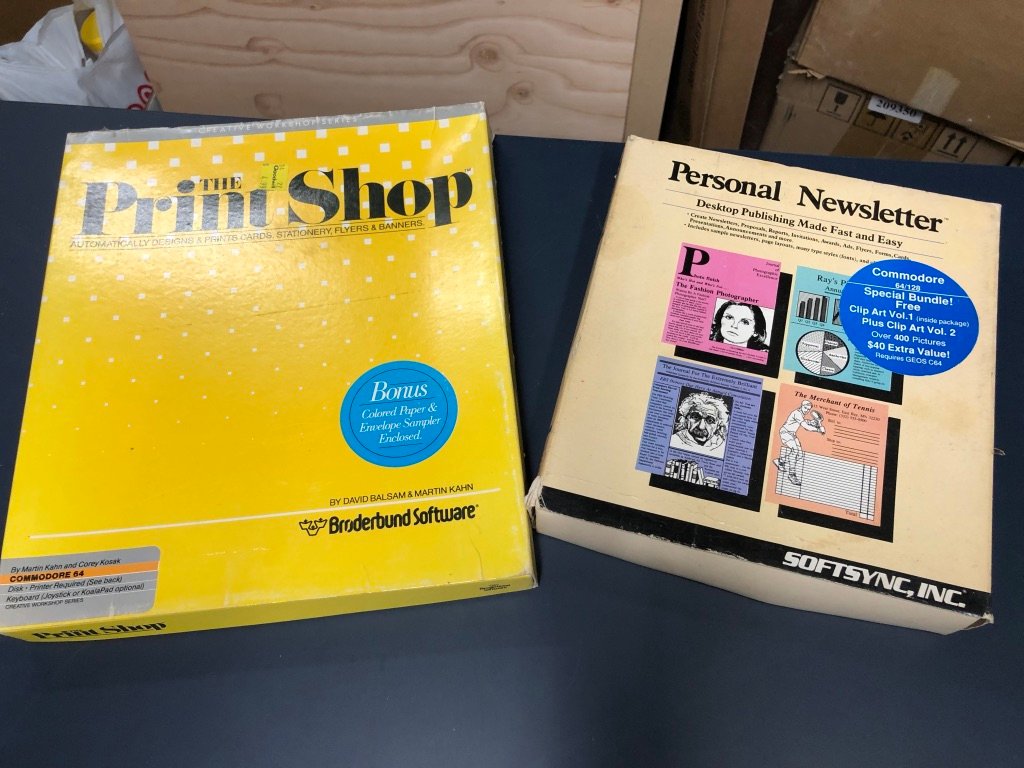 Win, Lose or Draw 1st and 2nd edition, and MTV's Remote Control, all boxed and shrinkwrapped.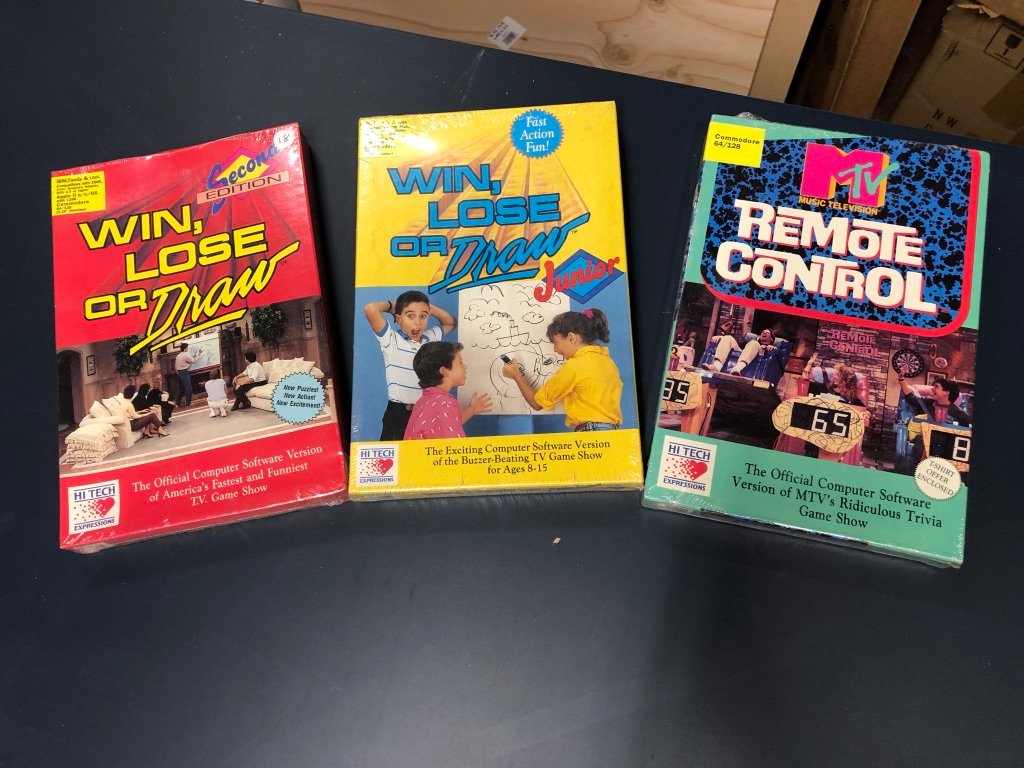 Value Ware titles and some misc. I loved shovelware sets when I was a kid because I could afford them with my allowance, and if I was gonna pay $20 for bad software, at least I can get a lot of it. en.wikipedia.org/wiki/Shovelware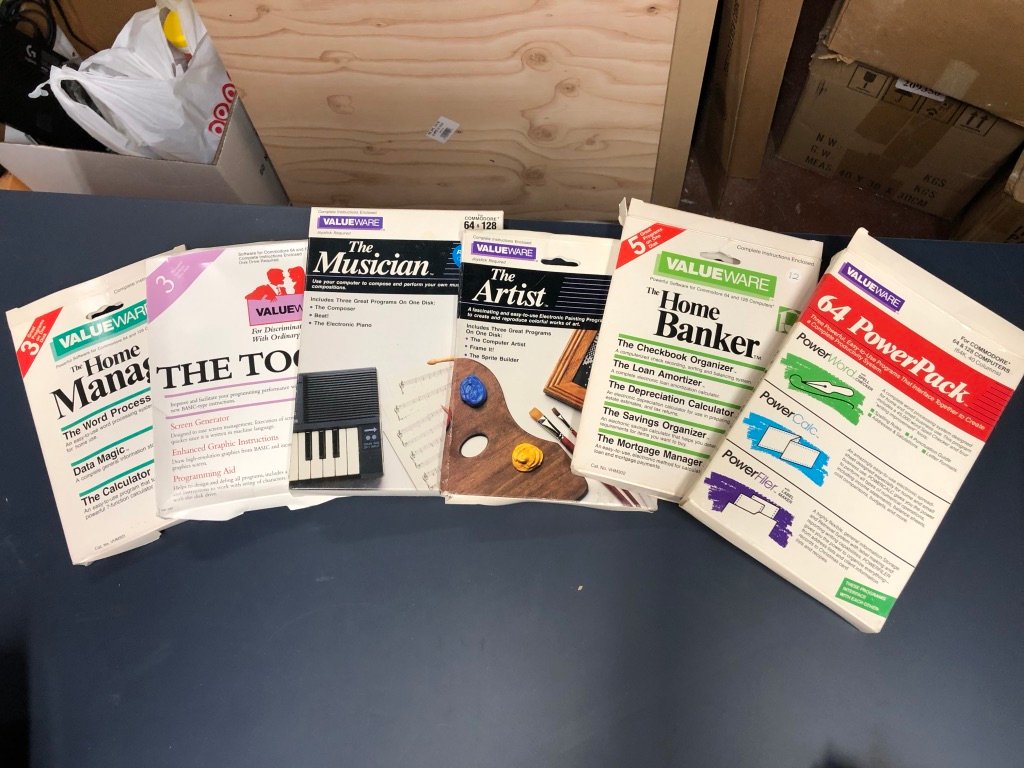 MusiCalc ScoreWriter 2, Pocket Writer 128 (w/ C64 version supposedly?), and SoftSmith's 64 Basic Rx programming tools. There's at least two boxed copies of Pocket Writer 128 in this set, and probably many backups.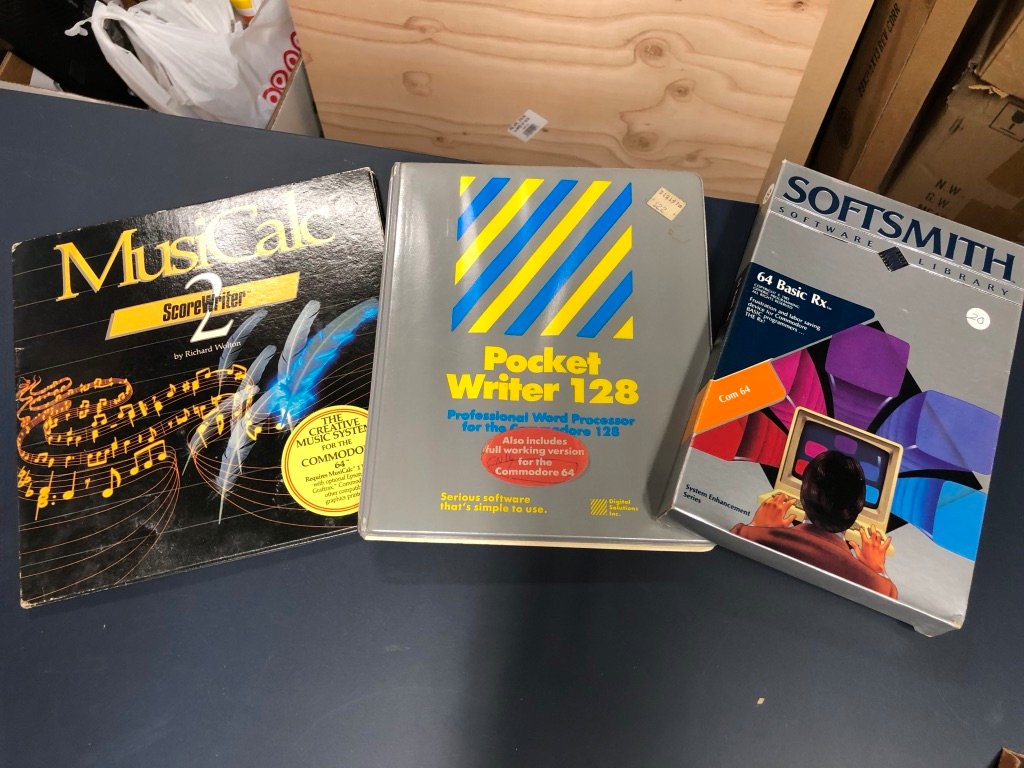 Advanced Dungeons & Dragons titles (at least 5x in the lot, these are just 3); Might and Magic II, and a deeply water damaged yet complete copy of Ultima VI for the C64. Cloth map was soaked through when I found it, box is rotted.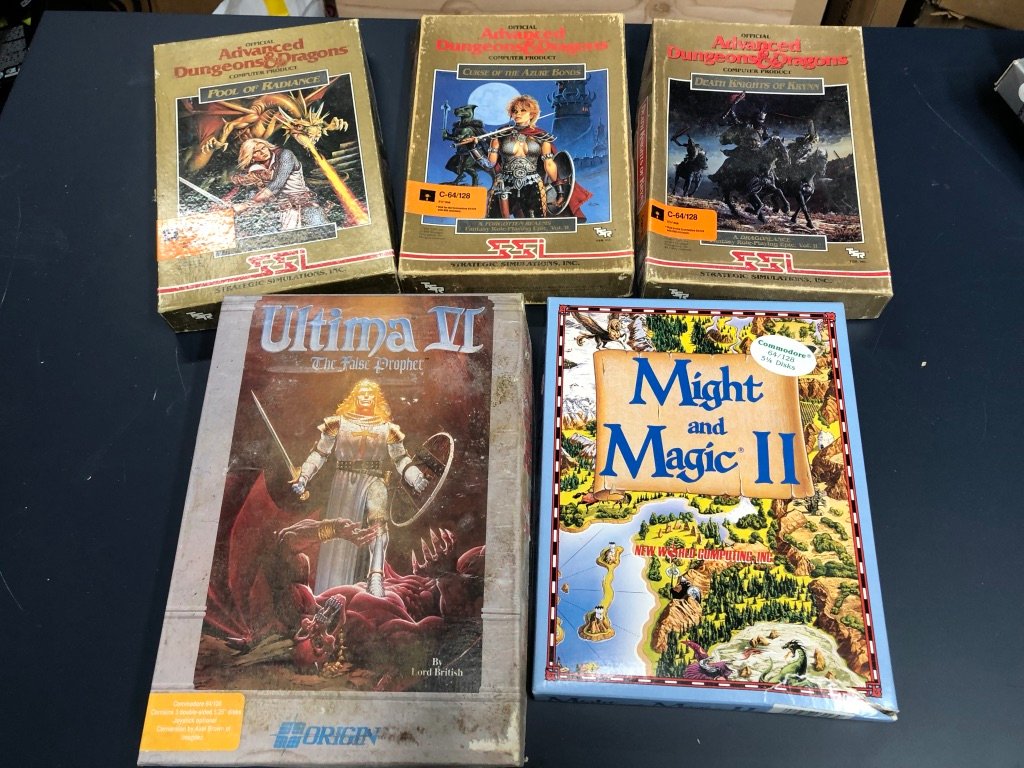 Color64 BBS printouts. More Color64 later! Most if not all of this lot comprises the University of Washington Commodore Users Group lending library. Large, well loved, and diverse adult interests including games, programming, home finance, and productivity.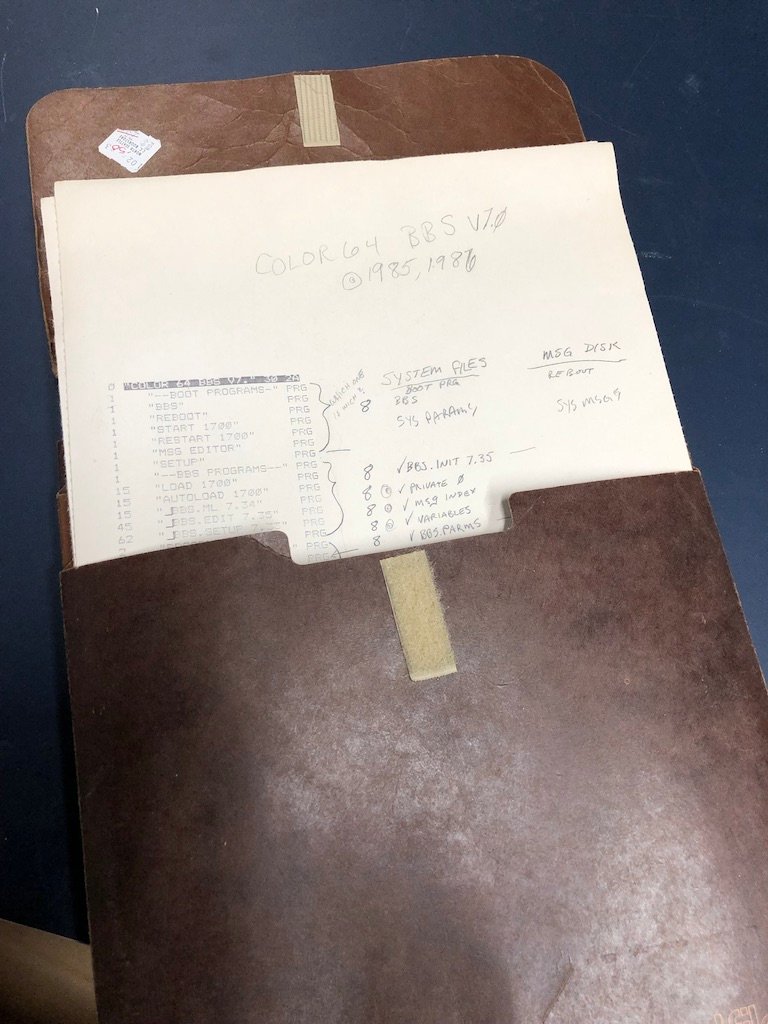 I found but decided not to take the library's lending journal. It's historic but I can't afford to keep it. Here are a couple of pics I took of it while on site at Ray's.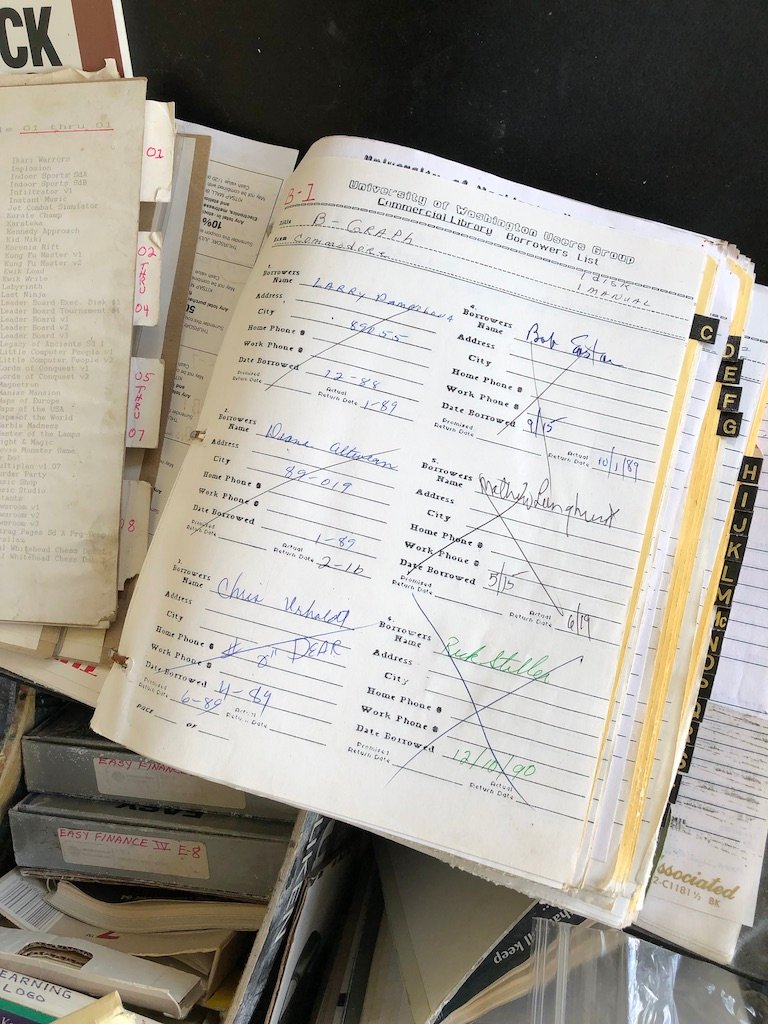 The Music Studio, Pascal 64, Logo (3x in various states), and Microsoft Multiplan (2x). I love programming languages and old programming packages for '80s micros, so these are keepers if they work.
Plastic bound educational titles, and publishing titles from Springboard in nifty plastic boxes that have held up well over time. I loved Spinnaker stuff when I was little. (I've tweeted about Story Machine before!)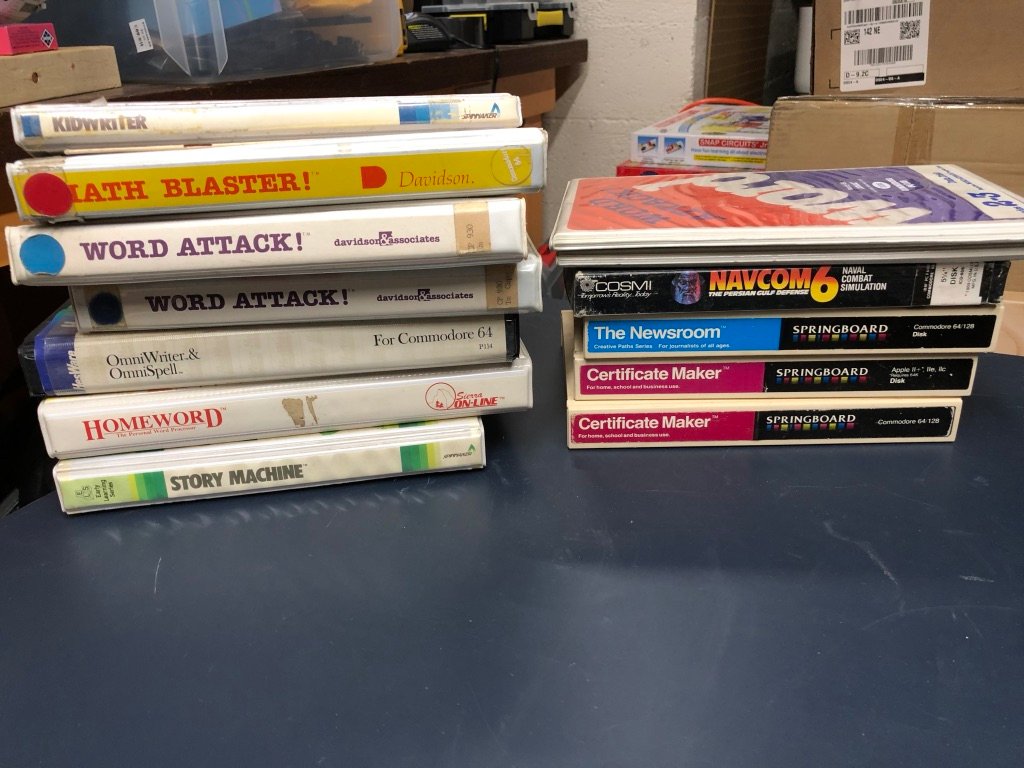 EA flatpacks fo Racing Destruction Set (2x), Skyfox (one of my childhood faves), Heart of Africa, Seven Cities of Gold. Also shown are 2x of a total of 3x CP/M sets for the C64, all 3 including the Z80 expansion cartridge! Huge!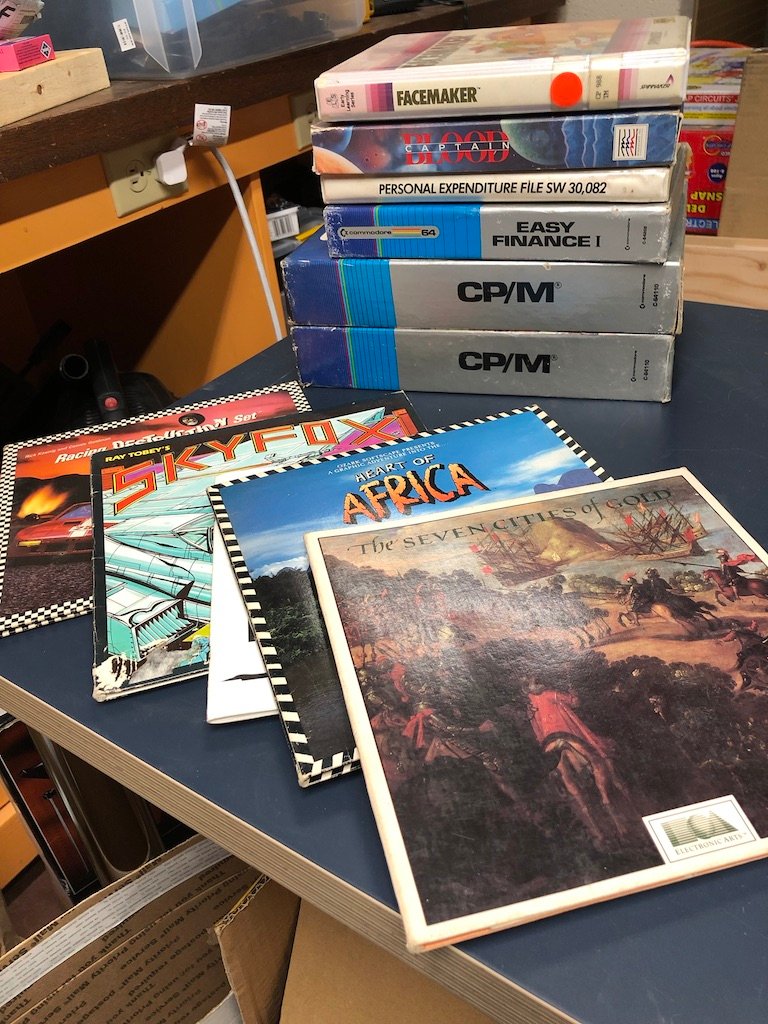 Many lending library titles were floppies in makeshift cardboard sleeves. Commodore Assembler is here, as is a Commodore-published version of Infocom's Deadline. Keypunch shovelware, Slot Car Racing Construction Set, and a C128 tutorial.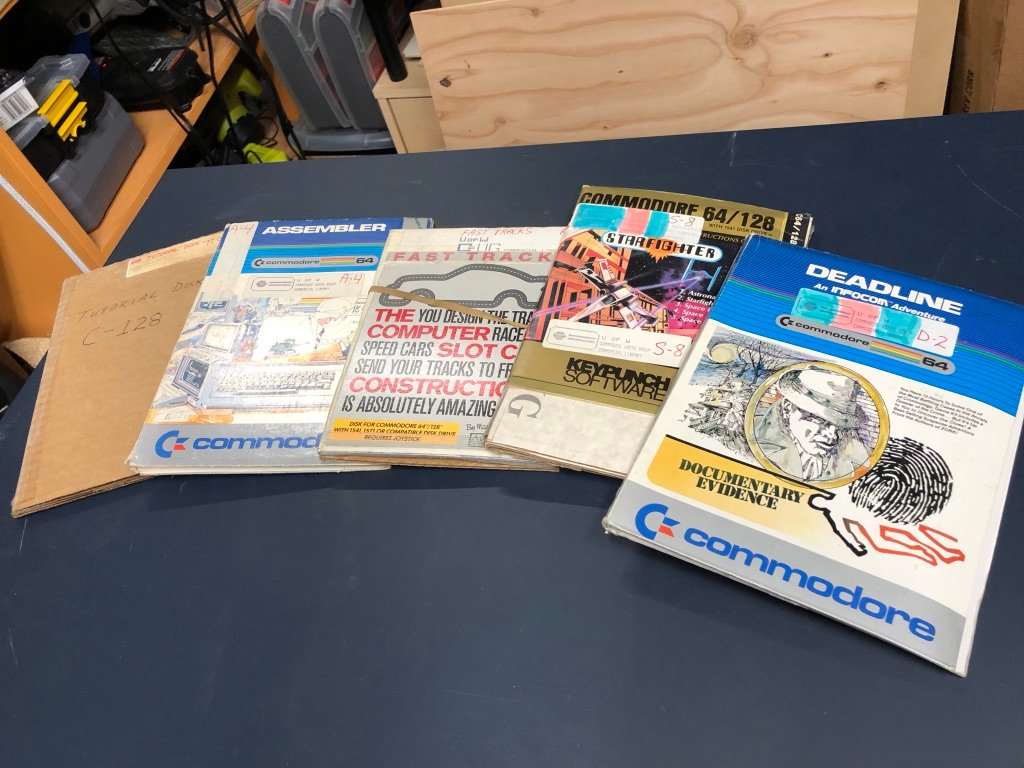 Where in the USA is Carmen Sandiego? included a full copy of Fodor's USA travel book! How cool is that! Every computer knowledge game should come with a complete paper reference for the answers. Brilliant.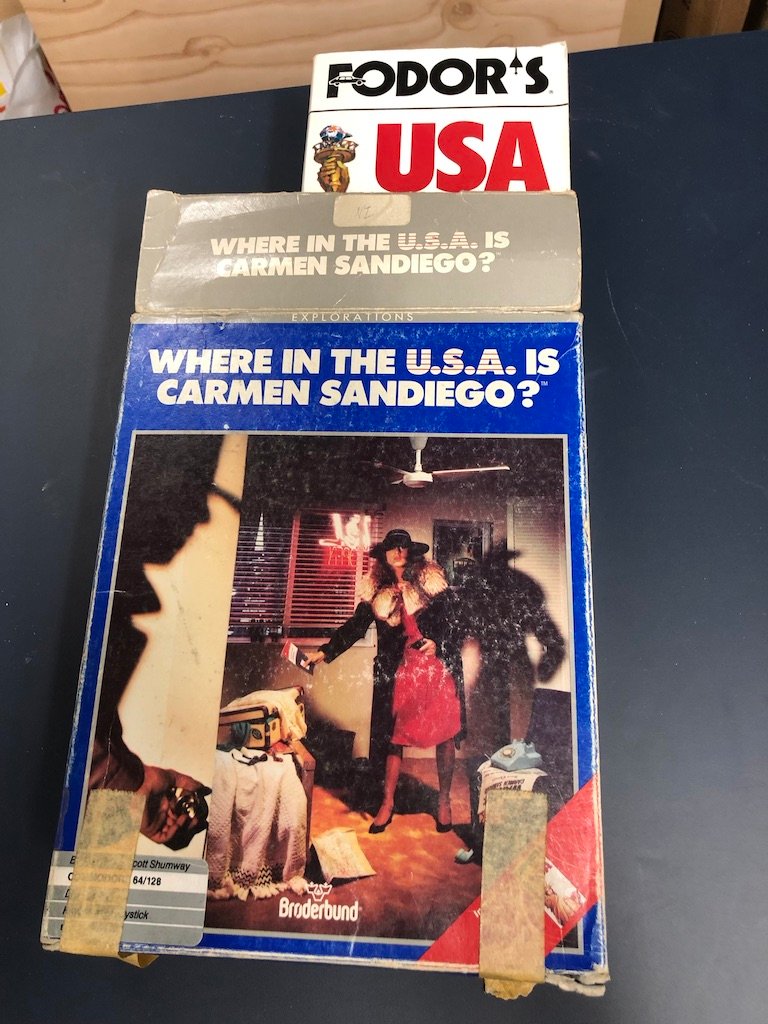 Sword of Fargoal on disk, 64 Forth (prog lang), HESWriter, Pilot (prog lang). A bunch of Easy Script in this lot, too. Is it any good?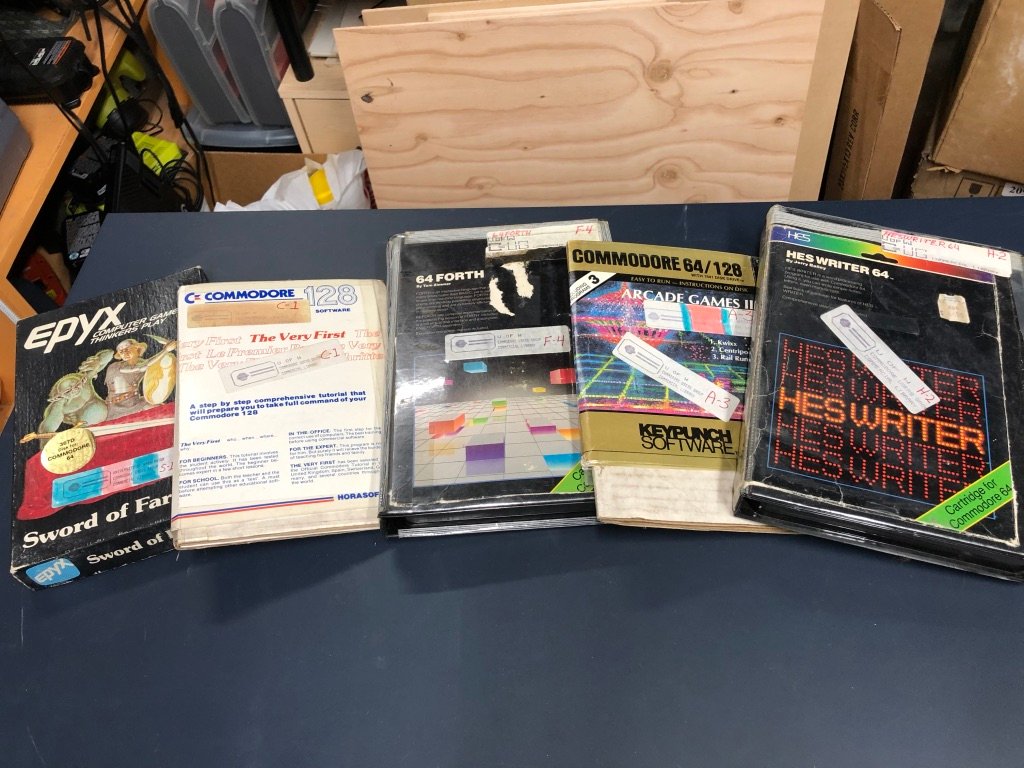 Microsoft Flight Simulator II! Box includes two of the books, but not the original disk. The originals might be in with the loose ones, and the backup was in the lending library. (I have not processed the loose disks yet, and you'll see why later.)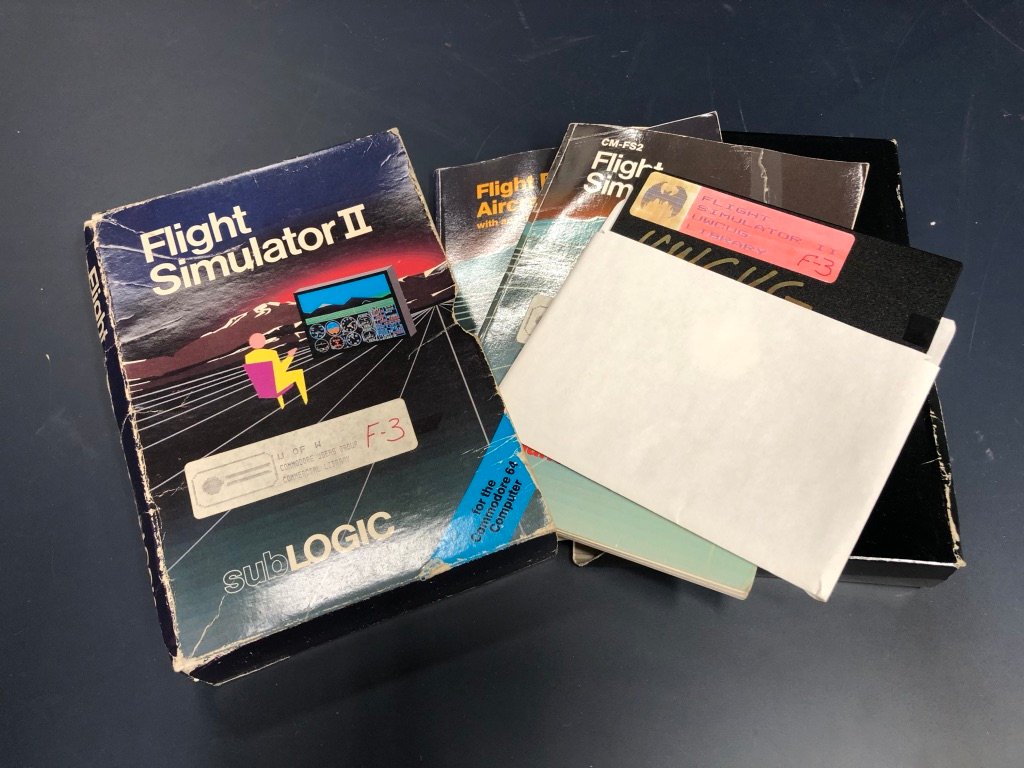 Comal is a programming language that I don't know but comes up a lot in this era, a structured programming language designed for 8-bit micros. A bunch of Comal stuff in the lot, looking forward to trying it out. en.wikipedia.org/wiki/COMAL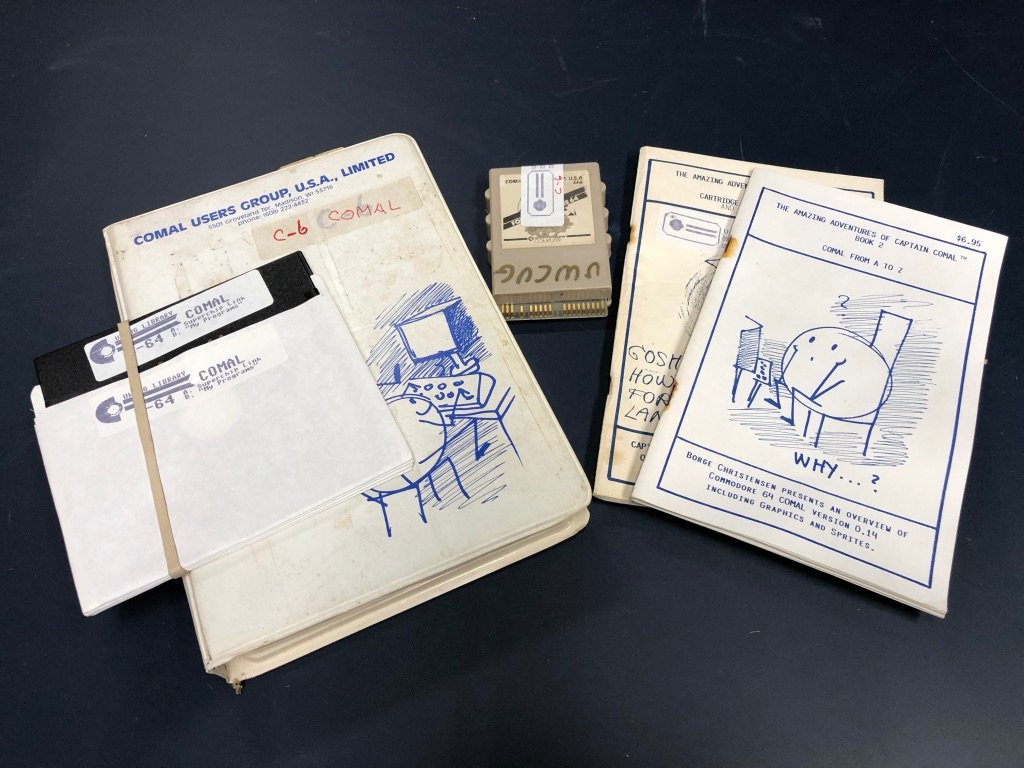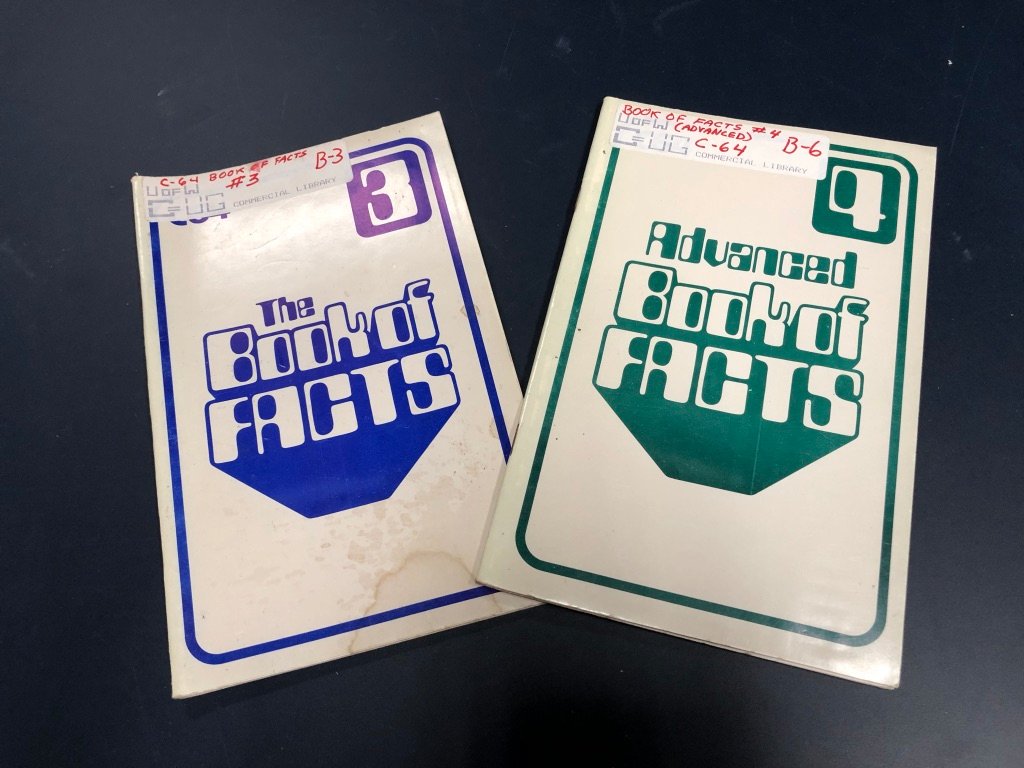 A white box with the words "Sim City" scrawled in ballpoint. Inside, a complete set of Sim City for the C64. I think that's two copies!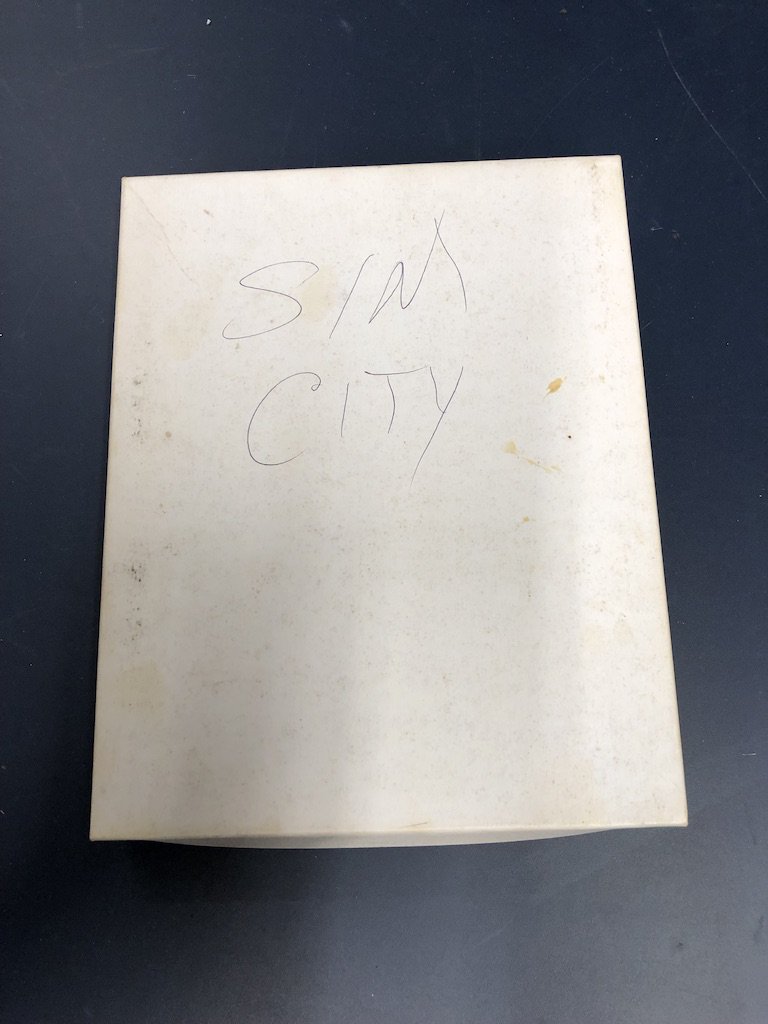 Loose carts of HES Writer, Gridrunner, FastLoad, and Bubble Busters. Also a lesson for the loose floppies who dare to get out of line.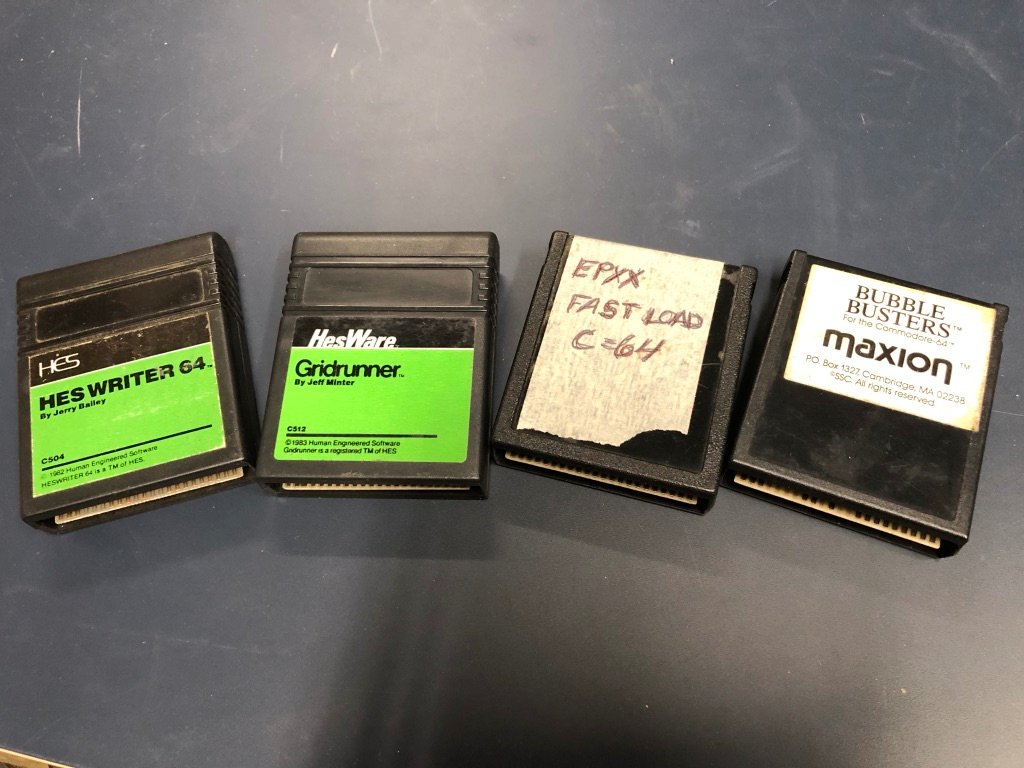 Modems modems modems! And a serial/parallel interface. I pronounced the word "MOH-DEM" (equal emphasis) through childhood because I had never heard the word spoken out loud. Only when I got to college did someone point it out. (Apparently "MOH-d'm" is more common?)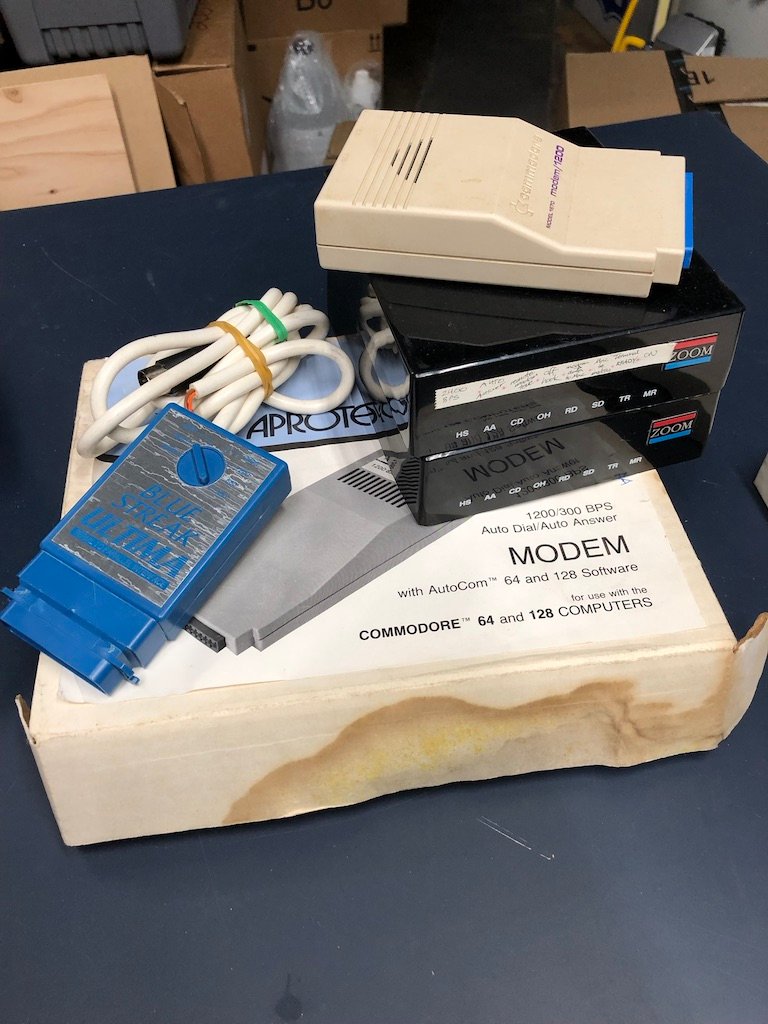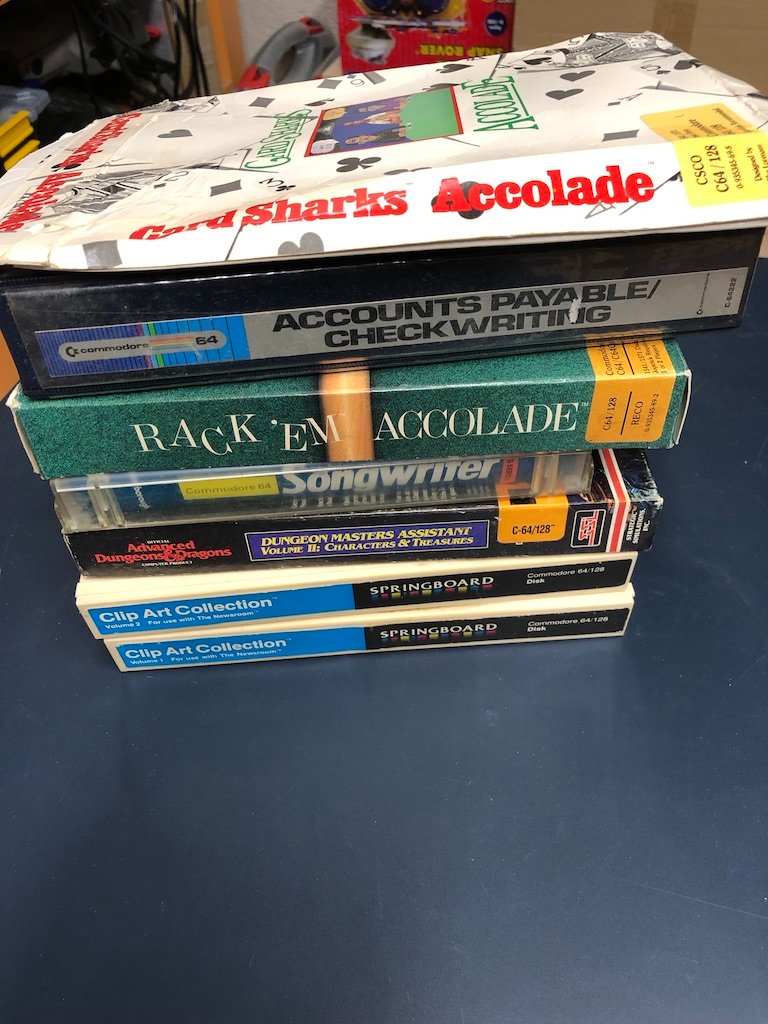 Ooh a clean boxed copy of Test Drive! The occasional C128 productivity package feels like a find, too. This is the 2nd of 2x Multiplan. The Pirates box is kind of cool, looks like a book.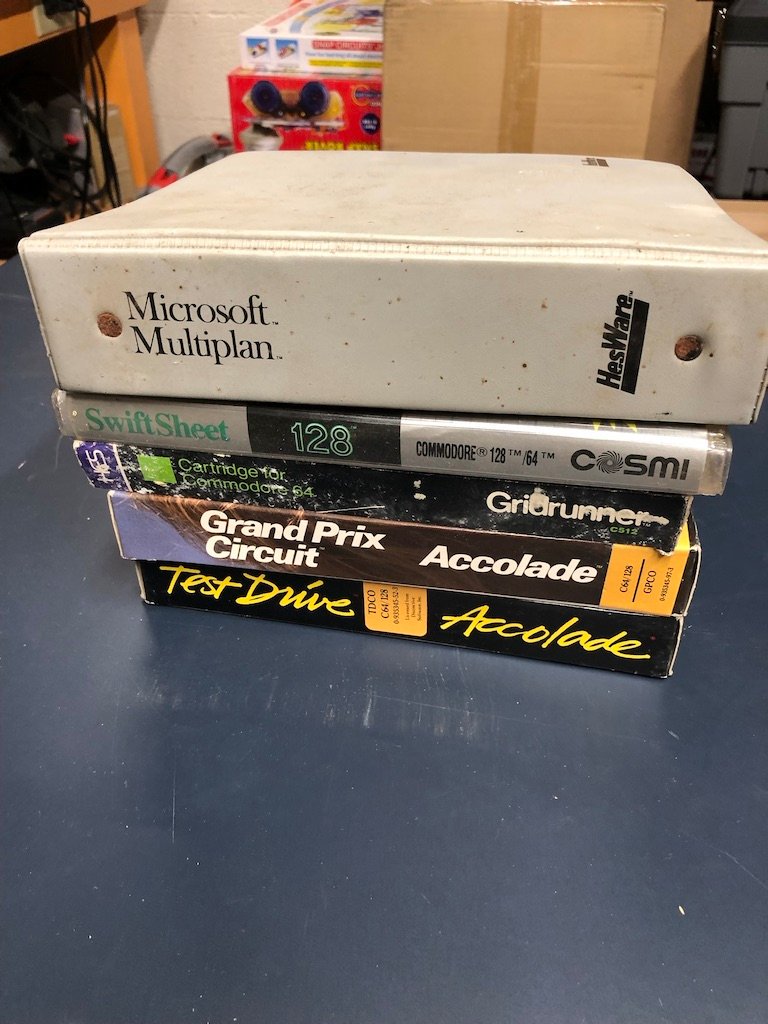 And here's Color 64 BBS on disk, in a cool (generic) plastic disk filer. Gotta see if these still run!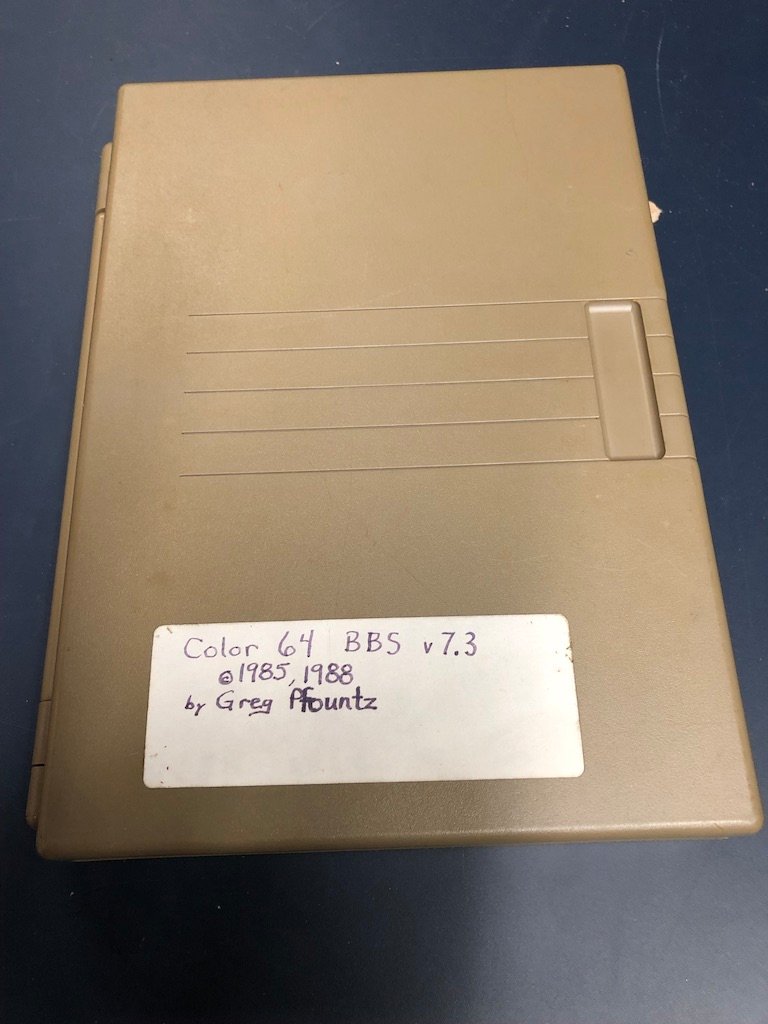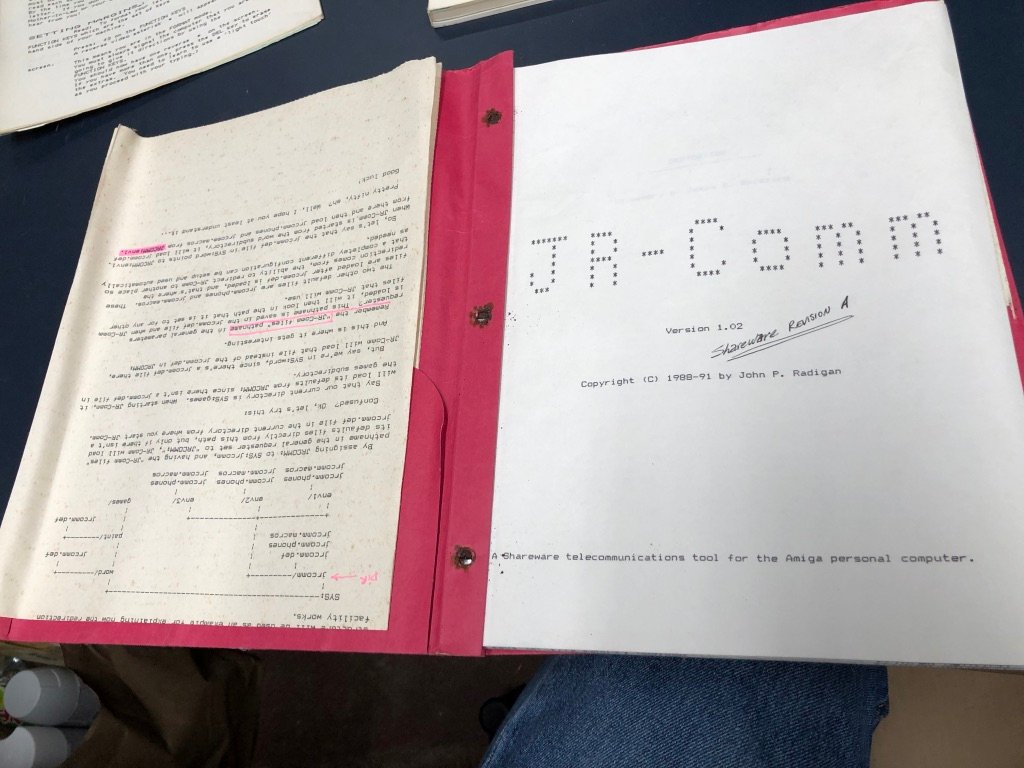 > READ SCROLL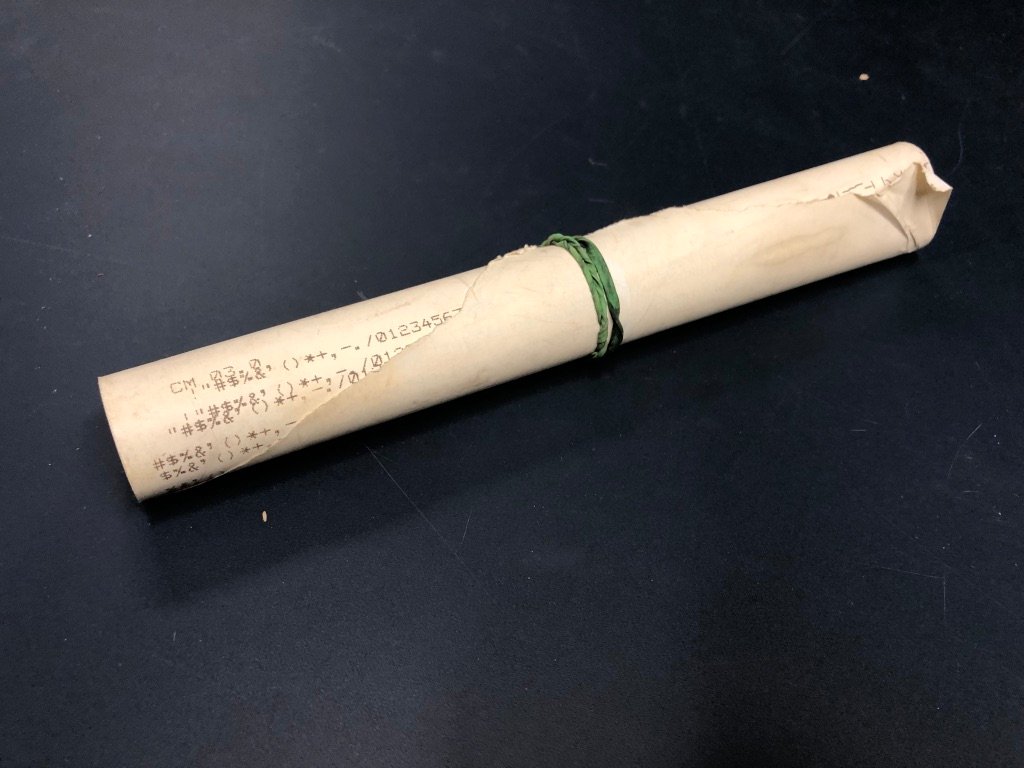 You read the scroll. You have learned NovaTerm v9.2. Your score has gone up by 1 point.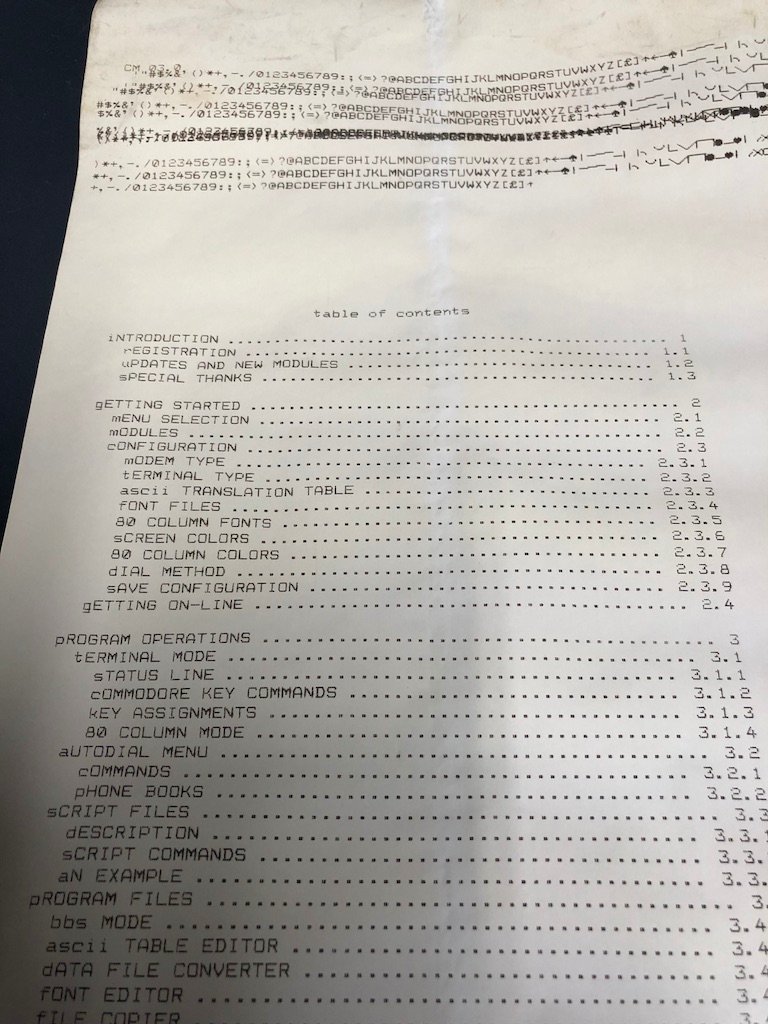 I love these: interactive storybooks for kids that include plot-relevant BASIC program listings to type in. My favorite was the Byte Brothers, like if the Hardy Boys were computer nerds like me. Wizards of Wonder by Megan and H. William Stine looks aged a bit younger.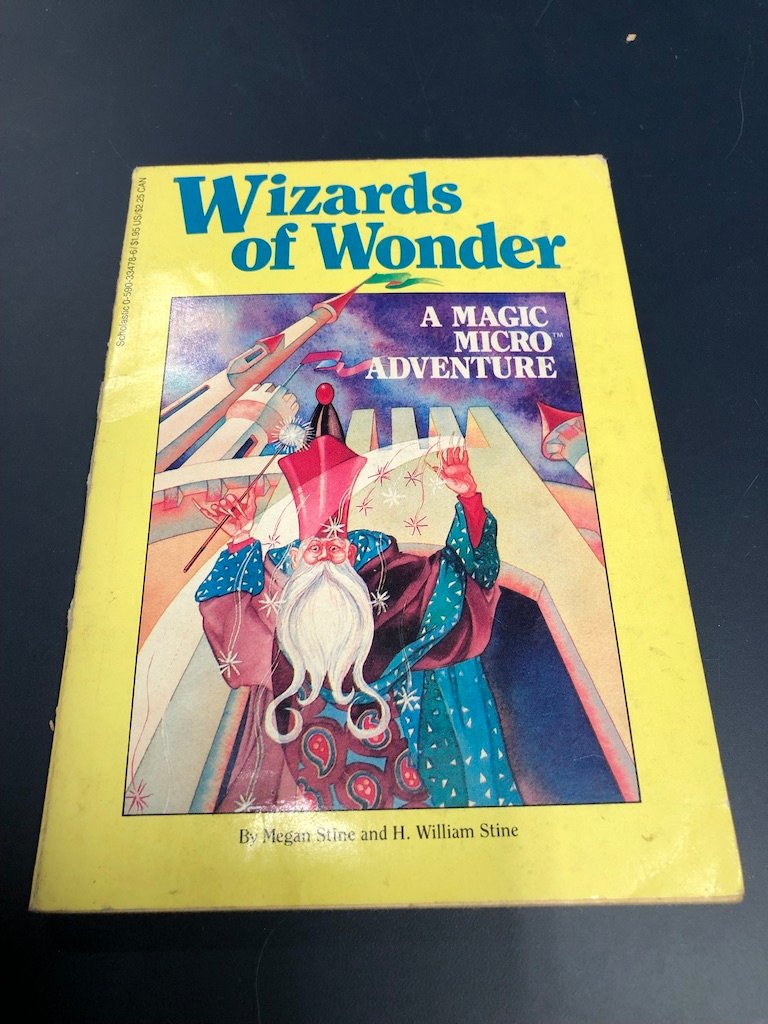 One more stack of flatpacks: Hackers, Infiltrator II, Uridium, Bop'n Rumble, Cut & Paste, and a set of "Golden Oldies": Adventure, Eliza, Life, and Pong.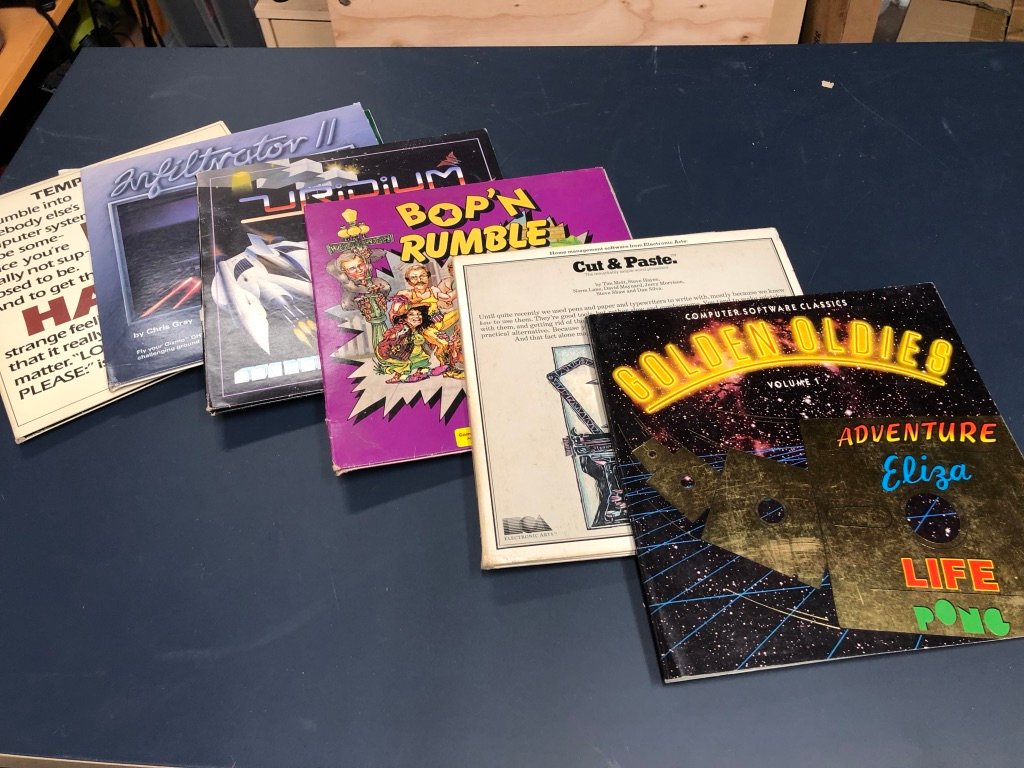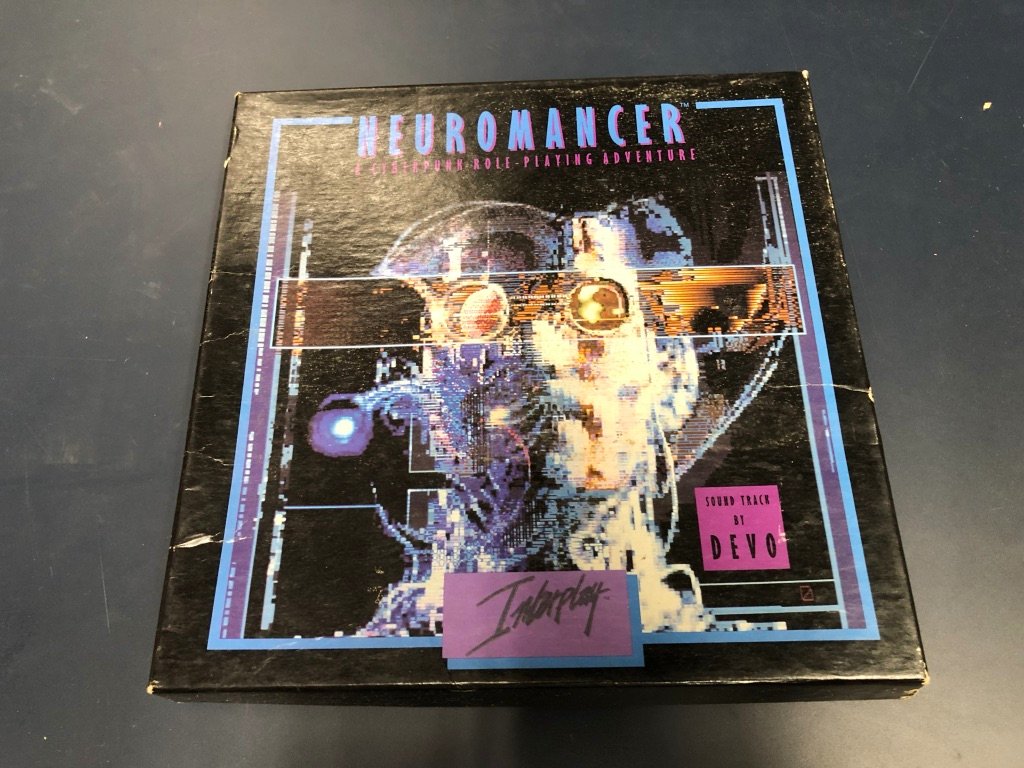 … Neuromancer's disk isn't actually in here. Will have to scour the loose floppies. A decoder wheel and someone's extensive game notes are in here, as are… a copy of the Infocom game Suspended, a Compute!'s Gazette magazine disk, and a Toronto Pet Users Group catalog disk.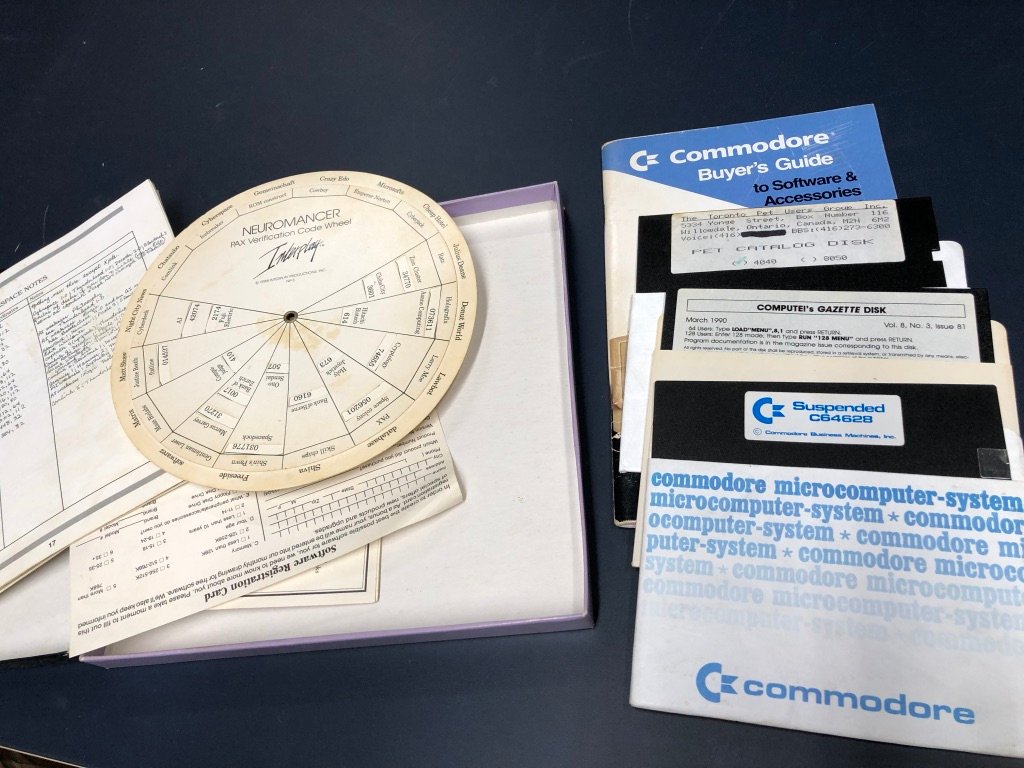 Books! The venerable Programmer's Reference (actually 3x, the third not shown in great shape), a few Compute! books–I loved this whole series and own clean copies of a bunch–and even more Comal: The Comal Handbook (2x), the Comal 80 software package, and a comic guide to Comal.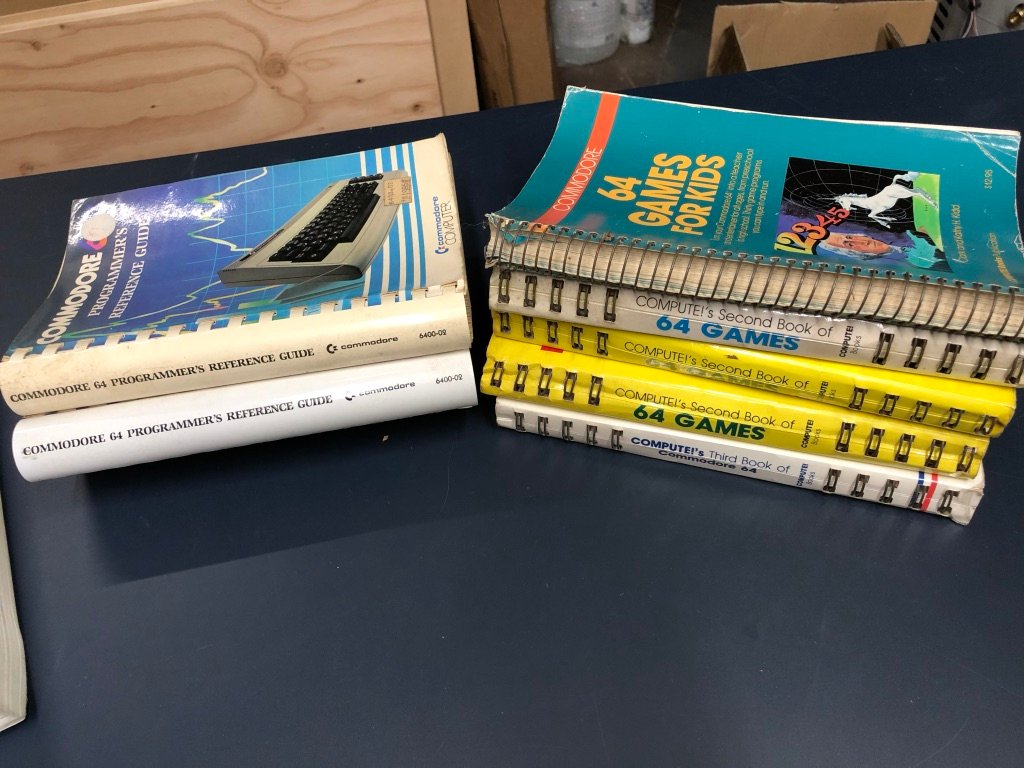 The 1986 Special Edition of Run magazine included this amazing reference poster.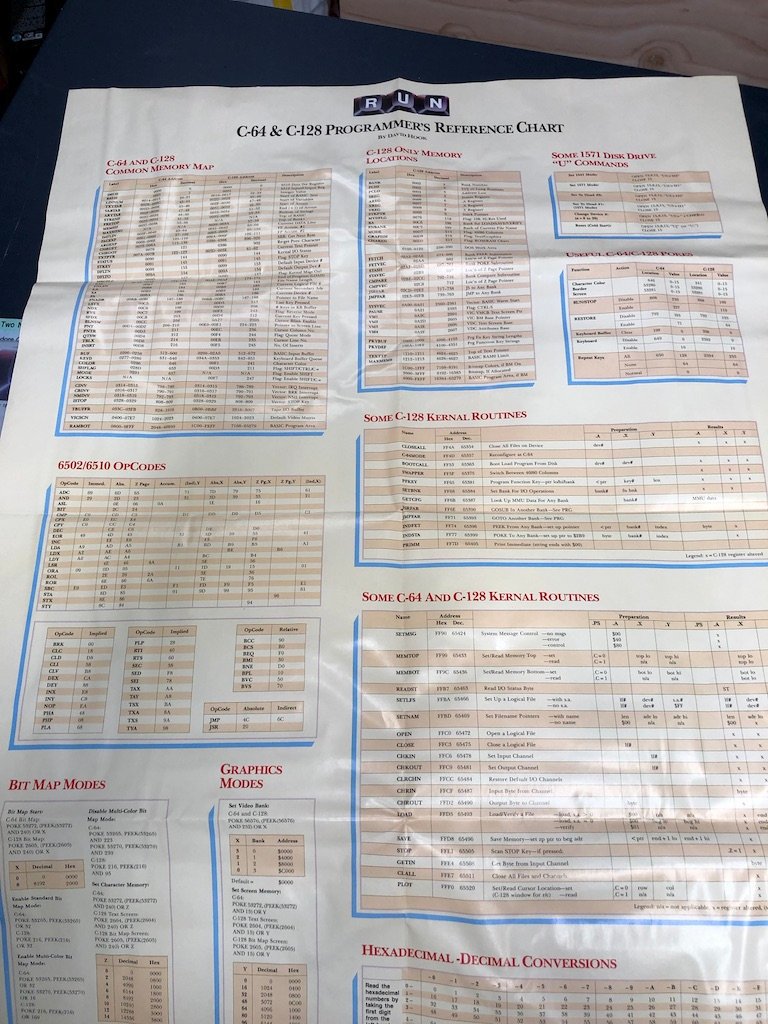 Keyboard overlays with hints on how to use various productivity and programming software packages. Slightly browned over time but still in good shape and usable!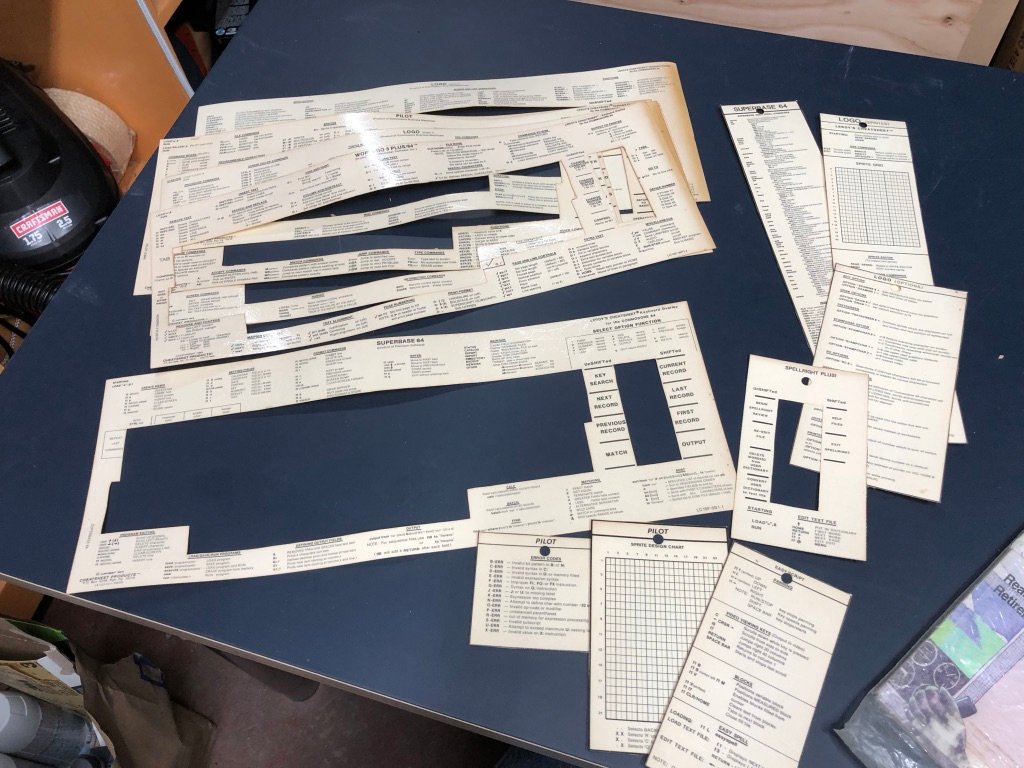 Seven issues of Compute!'s Gazette, my favorite and a cornerstone of my childhood C64 experience. I have a stack of these in good condition but I need to catalog them and hunt down the missing issues if possible. (They're on eBay for too much money all the time.)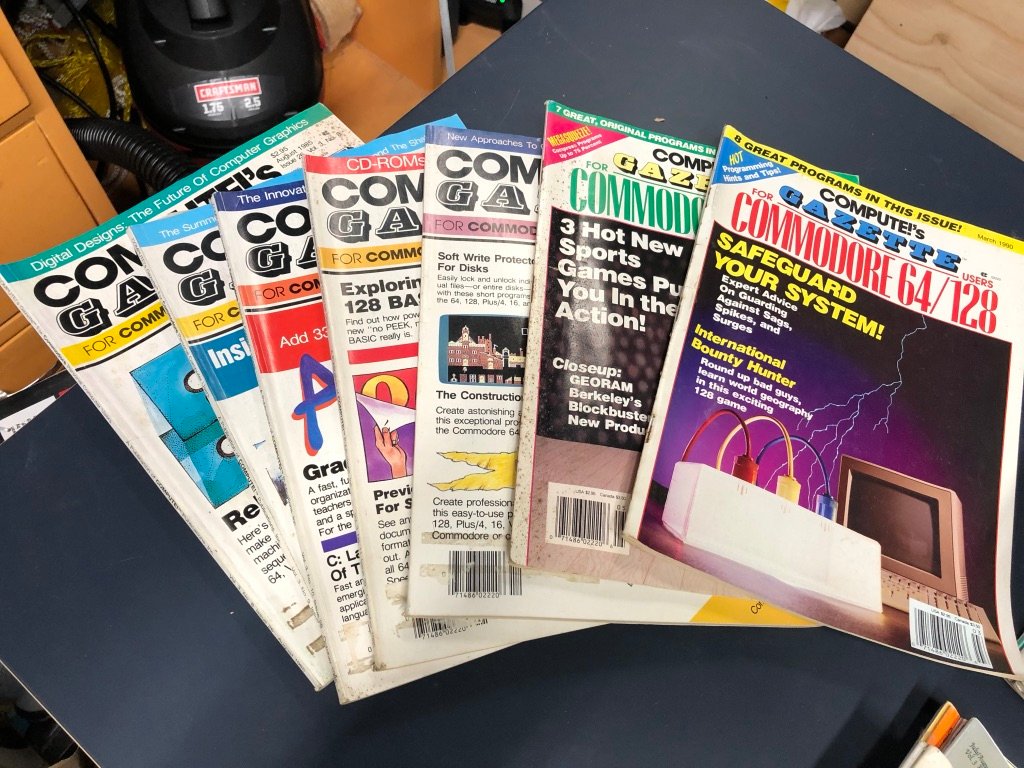 Six issues of dieHard, a Commodore magazine I've never heard of. Very cool. Note: minor water damage to all magazine shown here, they were in a box that saw the side of a rainstorm or something. No mold and all pages readable.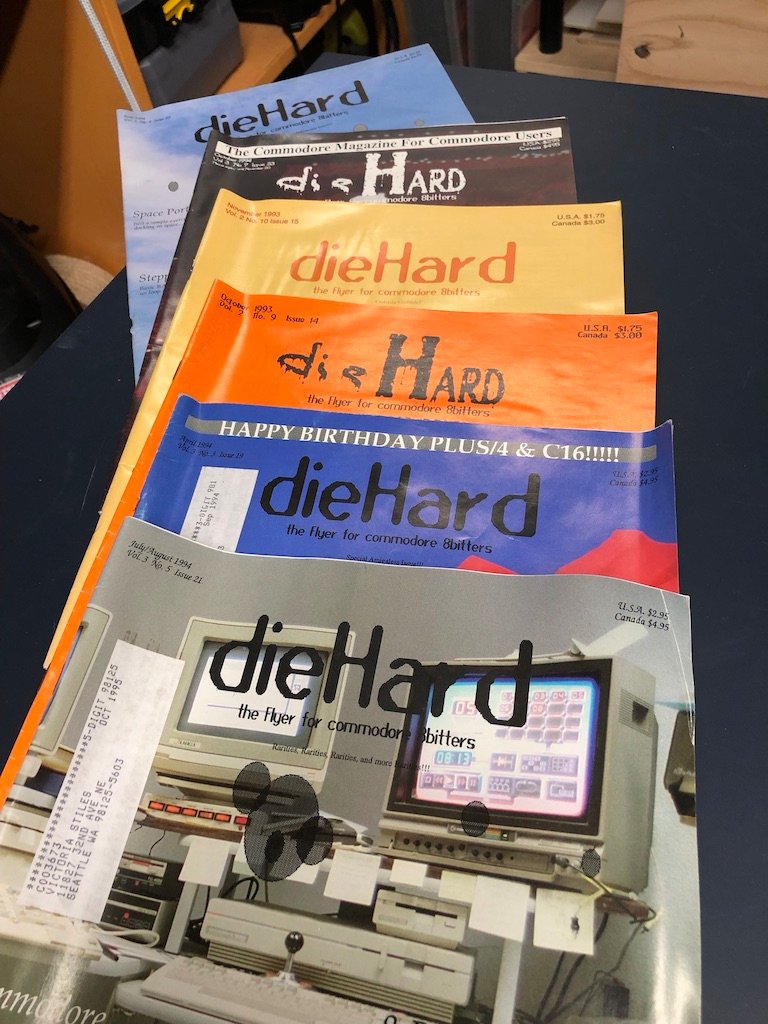 The motherlode: 30 or so unique issues of Run magazine, including all of 1986 (with special issue) and a bunch from 1989-1992. I never knew Run and I look forward to sitting down with these.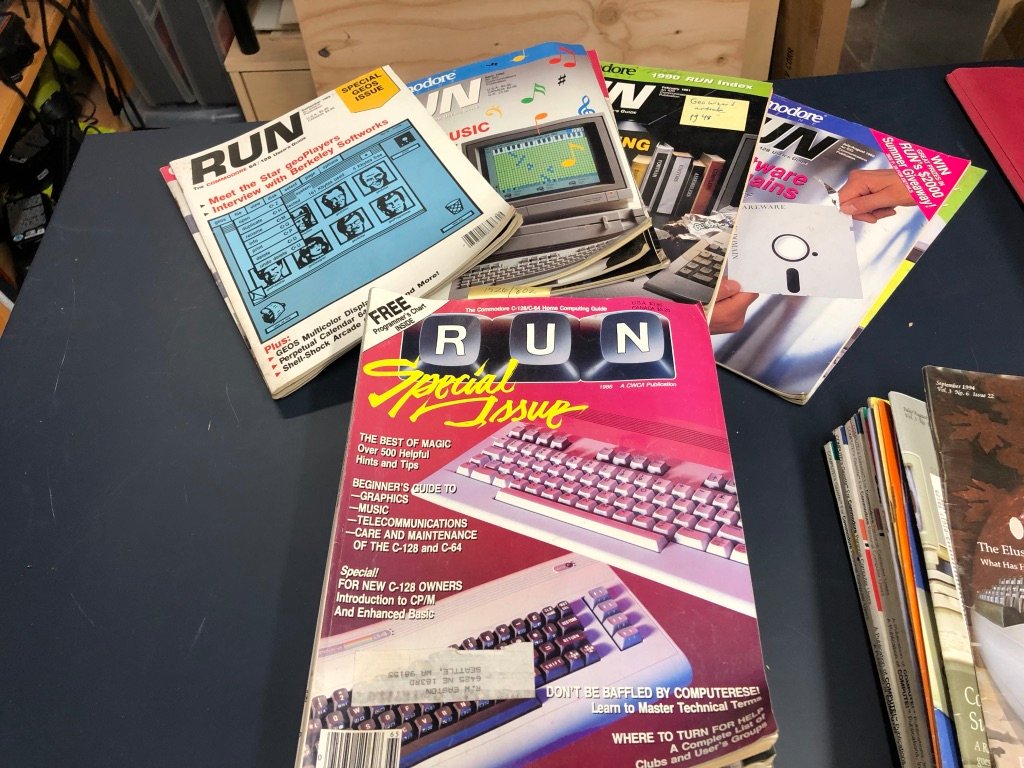 A small number of lovely zines and club newsletters, including an article by @RayCarlsenPSU himself and a historical tombstone by Tiger Avery on the closure of Q-Link and my beloved Compute! magazines.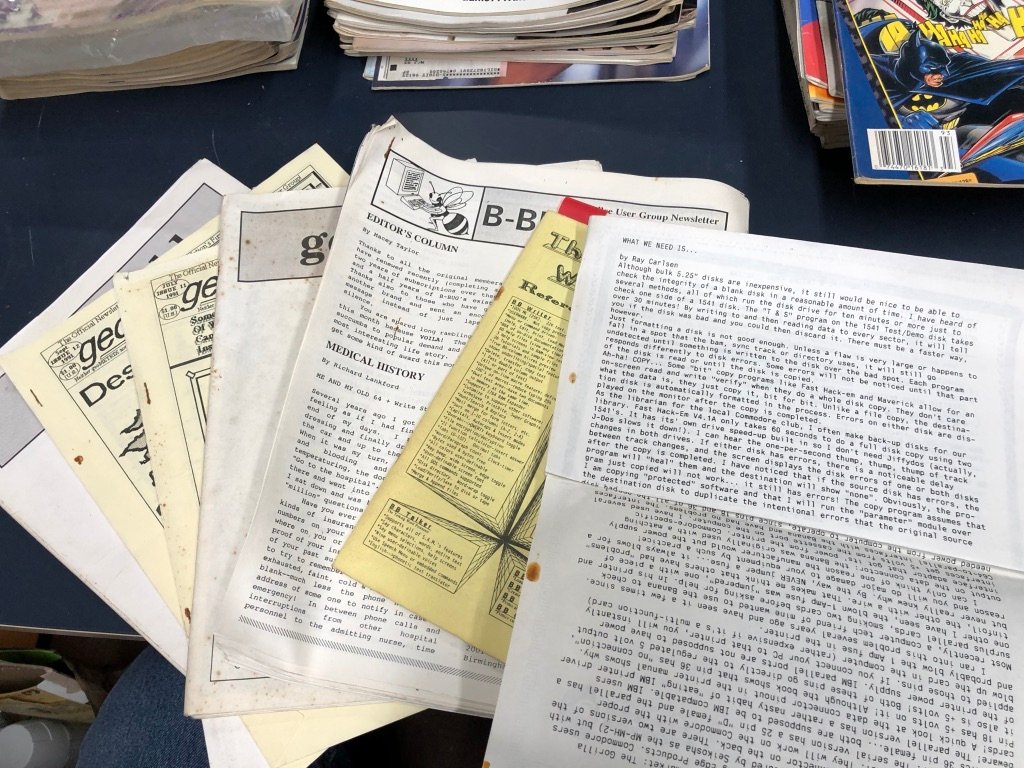 The last pic of the lot: four large cardboard boxes of loose floppies! Nearly all of these are in plastic disk boxes. Most are backups, some are professionally printed originals, and there are data disks in here, like UW CS dept syllabi and assignments.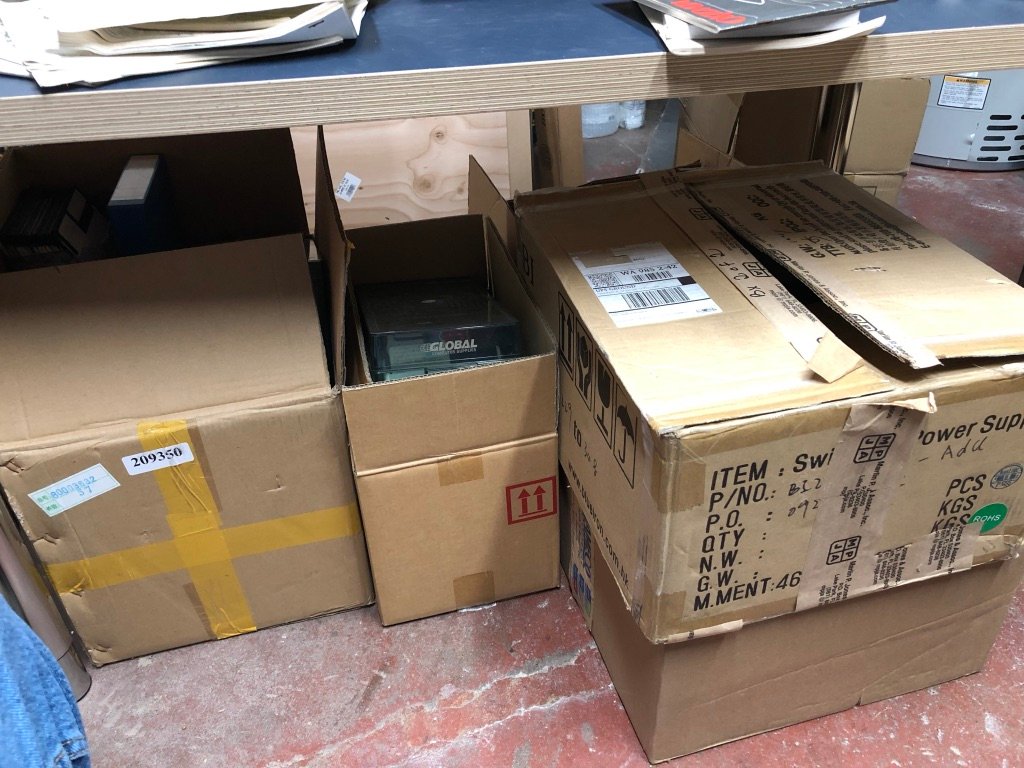 Thanks again to @RayCarlsenPSU for letting me raid his collection. Visit Ray's website for info on ordering power supplies and downloading Commodore repair documentation! personalpages.tds.net/~rcarlsen/
Thread bump for anyone interested in retro haul photos that wasn't around at 2 am when I posted. Most of this will be offered to attendees at tonight's @seaccclub meeting!
(Originally posted to Twitter on September 11, 2019. It received 41 likes and 5 retweets.)