I still don't want a C64 Mini
I still don't want a C64 Mini. I feel like I would have bought one by now. I 100% love the NES and SNES Minis, so I don't oppose the idea. I think I'm just realizing that as fond as I am of the C64, I'm not that fond of many C64 games. I barely have a favorite.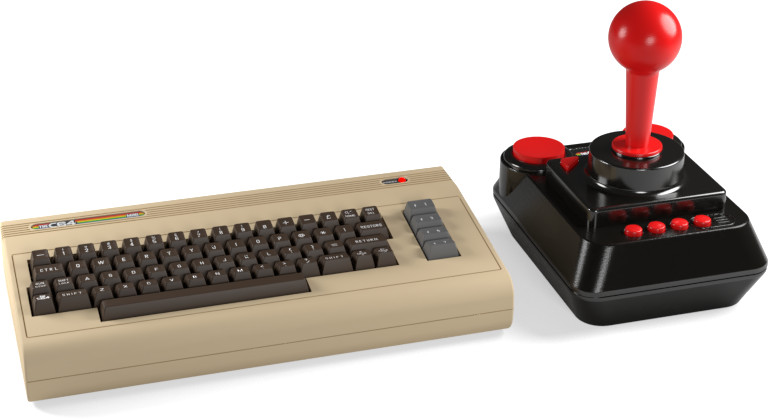 I do have that awesome FPGA 30-game joystick. And I have countless C64 emulation options if I don't care about repro'ing much of the hardware (not to mention several actual C64s). If the C64 Mini has advantages I'm not thinking of, let me know.
On the plus side, when searching for it Amazon recommended that I buy this awesome-looking NeoGeo mini that looks like a tiny arcade cabinet with a working screen and controls! 😍 amazon.com/NEOGEO-Mini-In…
I can name C64 games that I had and made a lifelong impression. Possibly my favorite C64 game is Crossroads, which was published in an issue of Compute!'s Gazette. dessgeega.com/crossroads.html youtube.com/watch?v=A_JFx4…
Skyfox by Ray Tobey held my attention for not only being an accessible arcade first person flight game, but for the backstory that Tobey was in high school when he wrote it. One of the most popular games at the time. en.wikipedia.org/wiki/Skyfox_(1… youtube.com/watch?v=SurusN…
Street Beat, aka Ghettoblaster, portrayed a small populated town that you could walk around in, with fun and largely non-violent gameplay and a library of music. giantbomb.com/street-beat/30… youtube.com/watch?v=froeBA…
I liked a crude shareware game called "Thief" partly because it was one of the first games I got for free from a QuantumLink download, and because it was clearly handmade by an individual. It crammed a bunch of adventure gameplay into just a few ugly screens.
I spent a lot of time with the Telarium (nee Trillium) literary text-heavy adventure games based on Rendezvous with Rama and Fahrenheit 451. They were effectively scary for my young age, despite some cheese. mobygames.com/game/c64/rende… mobygames.com/game/fahrenhei… youtube.com/watch?v=RLggCQ…
I had some well-known titles: Test Drive, Impossible Mission, Pole Position, Marble Madness, etc. Frantic Freddie was a dumb game but I loved its unlicensed chiptune versions of Queen songs.
My best experiences were all in creation tools: Pinball Construction Set, Adventure Game Construction Kit, Shoot 'Em Up Construction Kit, and Garry Kitchen's Gamemaker, not to mention CBM BASIC itself. I killed a lot of time in dumb games, but this is what I remember most.
I wasn't mature enough to know how to progress to assembly language. I knew of it, but I didn't have an assembler until one cropped up in Compute!'s Gazette and I couldn't figure out how to use it despite pouring over books. (I poured but I don't think I actually read.)
I gather that the C64 Mini now has a straight-to-blue-screen experience similar to any other emulator. I just don't think I need to pay for that when I already have RaspPis and VICE. Prove me wrong?
(Originally posted to Twitter on October 25, 2018. It received 5 likes.)