Viewmaster estate sale haul!
Finally got a chance to play with the stuff I got from this estate sale. Thanks again @cabel for the tip. Photo thread: twitter.com/cabel/status/1…
I have a modest ViewMaster collection and was glad for the opportunity to extend it. I went on Day 2 of the sale where everything was half off, big brawl near the reels. I love vintage stereoscopy of actual people things. DC, space stuff, Disney parks, nothing rare.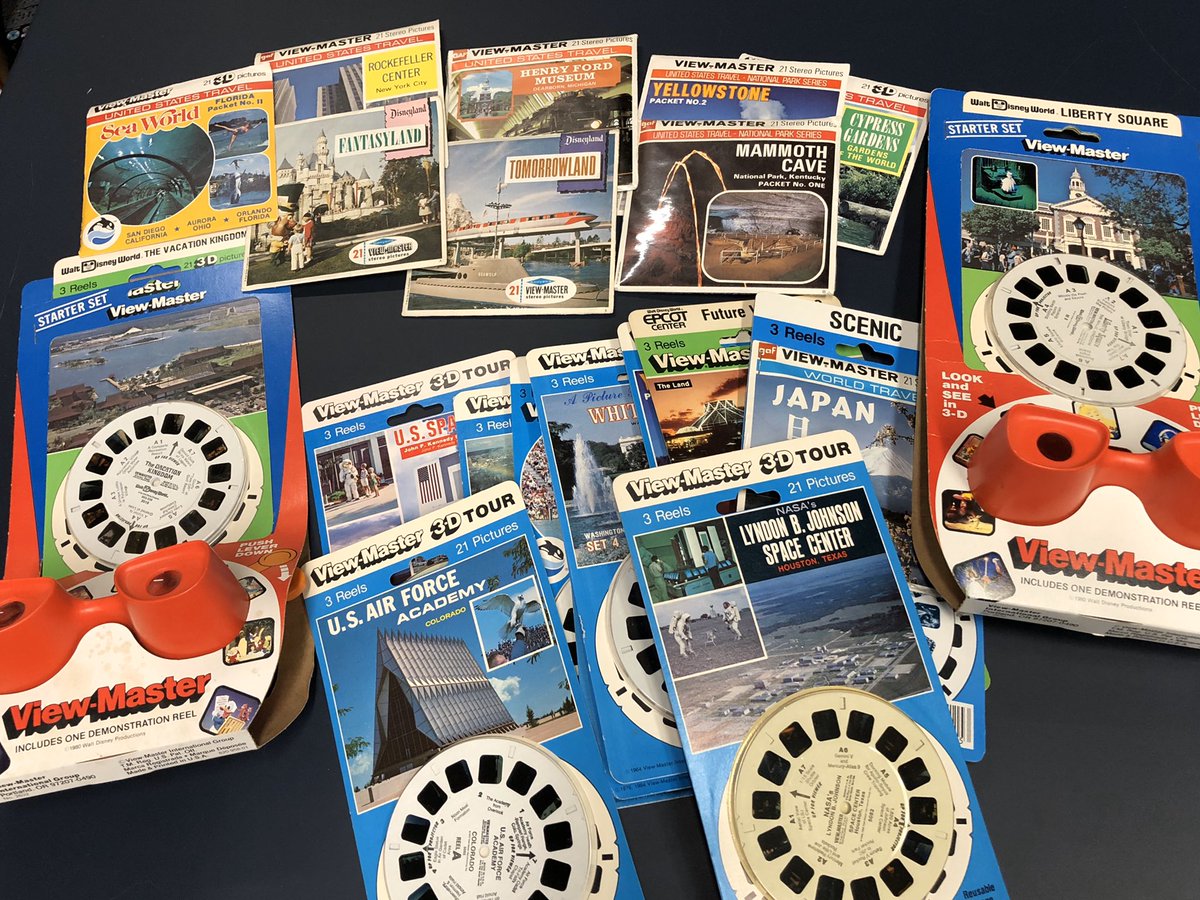 But Jerry Nudelman had a wider variety of VM things than just NIB reels. Check out this ViewMaster projector! Only 2D naturally and a pretty narrow throw (small image) but it's easy to imagine a kid having fun with this.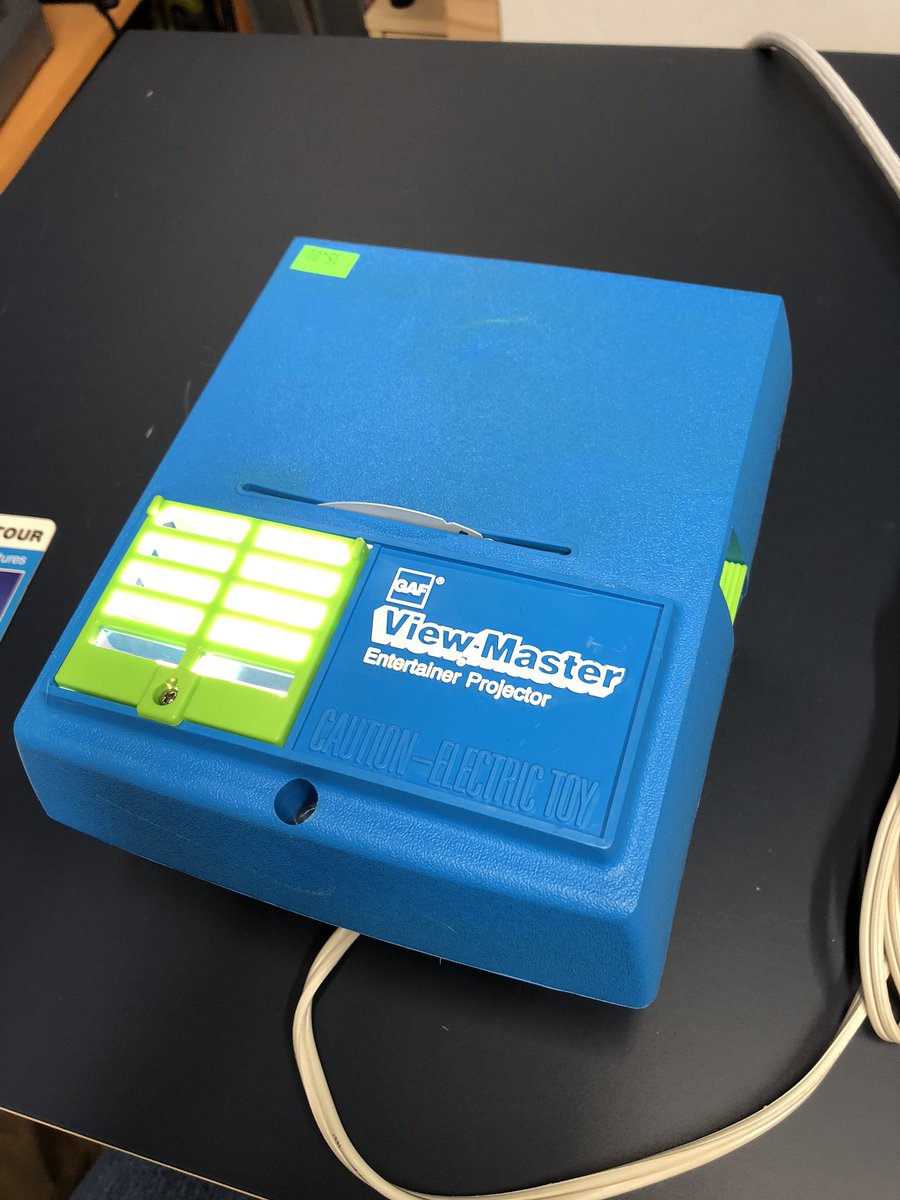 The Talking ViewMaster was a stereo photo reel with a plastic audio disc. The viewer had a built in record player. Two models: one with the disc attached to the reel, and later a regular reel and record in a paper+plastic housing, like a weird floppy disk.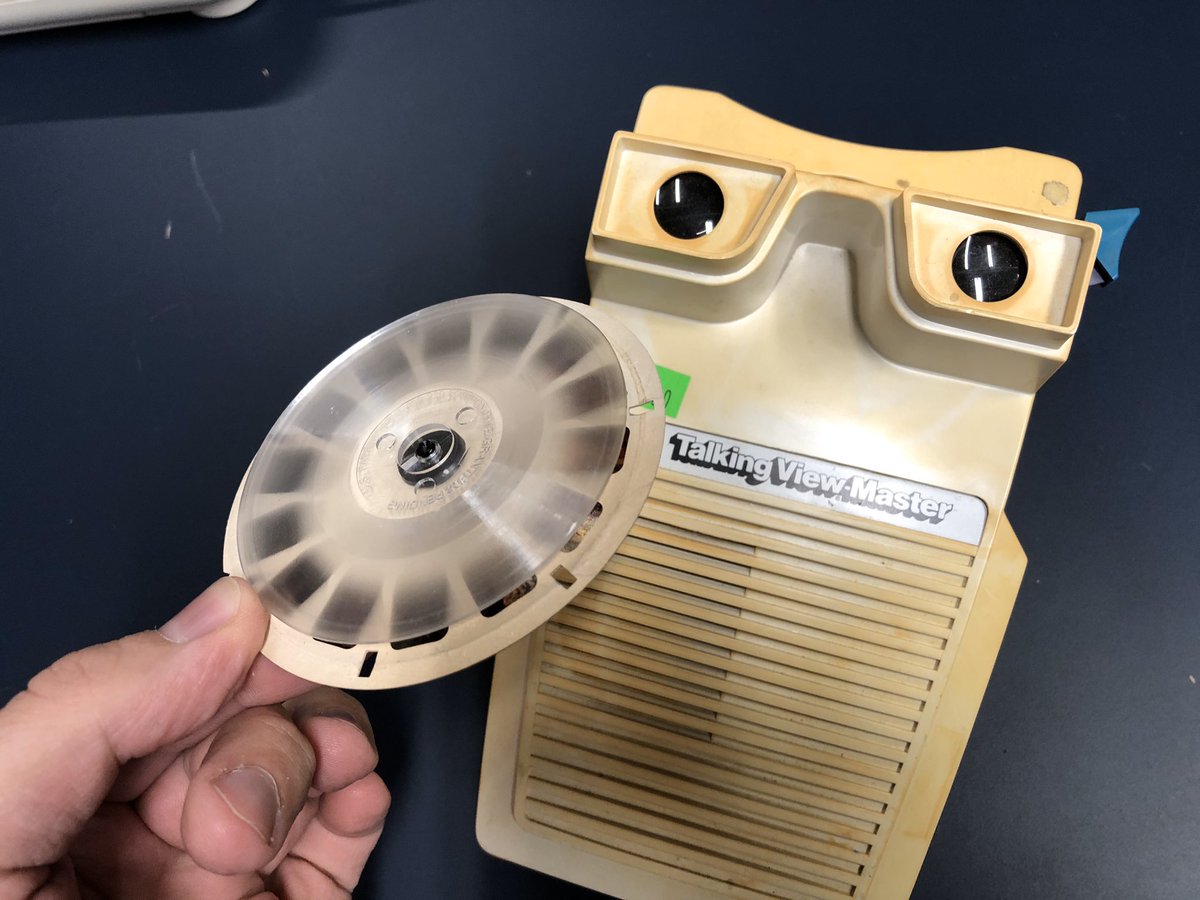 The first rule of buying battery powered electronics at estate sales: check for battery corrosion. Model #1 had its contacts destroyed by two old C batteries. So I took it apart to see how it works.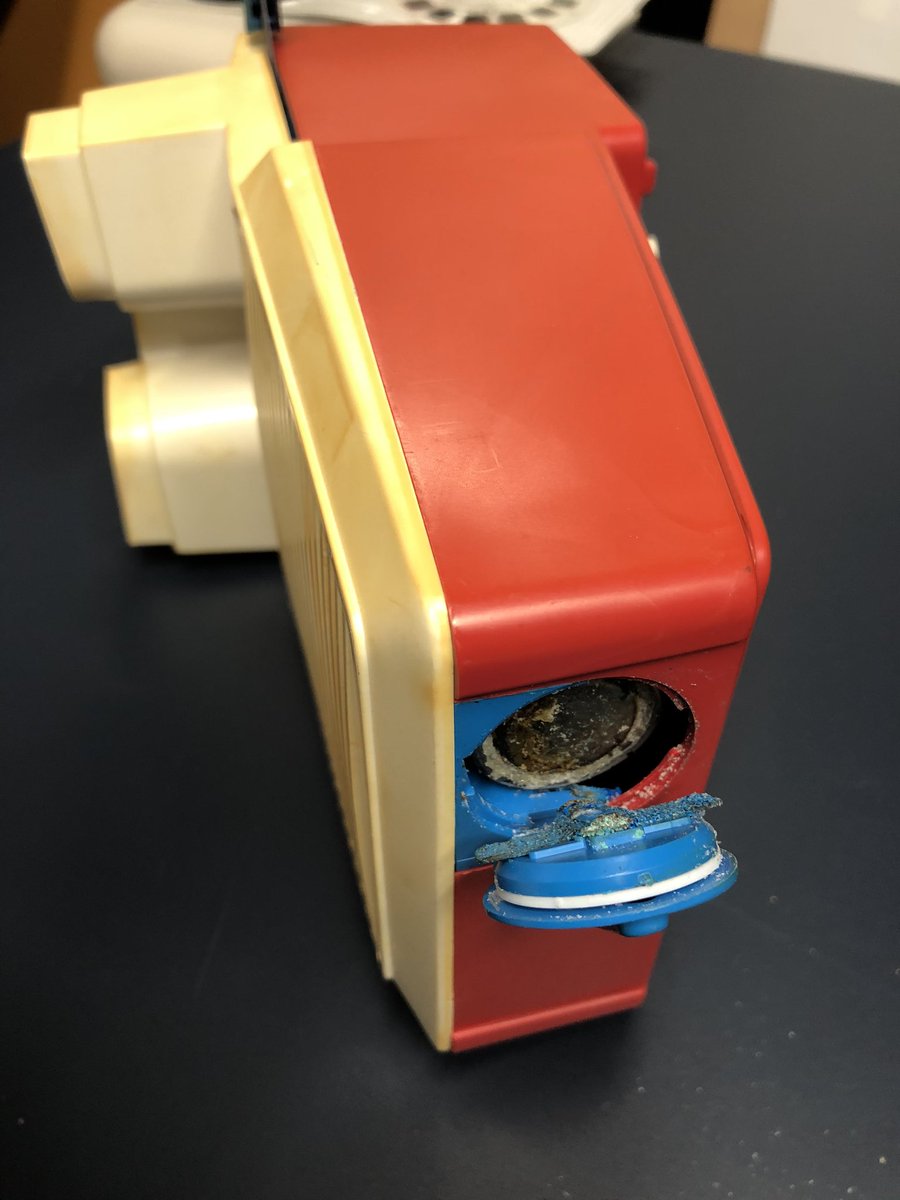 It's a simple mechanism: a large button presses contacts together and pushes a stylus onto the disc spun by a motor. The stylus vibrates a plastic rod connected to a cone, all mechanical amplification. I jerry-rigged (no pun intended) new contacts to see if I could get it working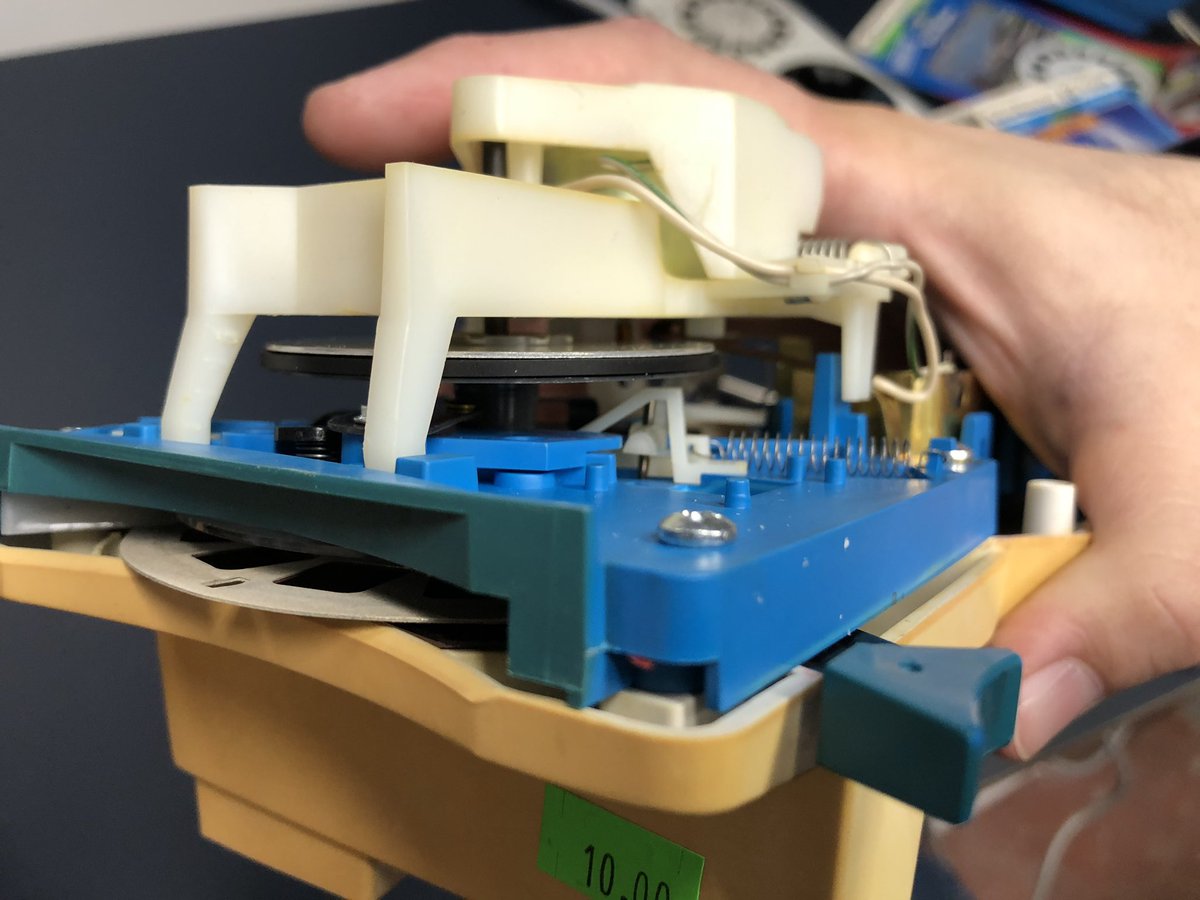 Thumper meets Bambi for the first time!
You can actually see ViewMaster pretty well through a phone camera if you give it a chance to focus.
Model #2 takes the full cartridge through the top. It can take AAs but also takes an AC power adapter, included. Motor and electronic amplification.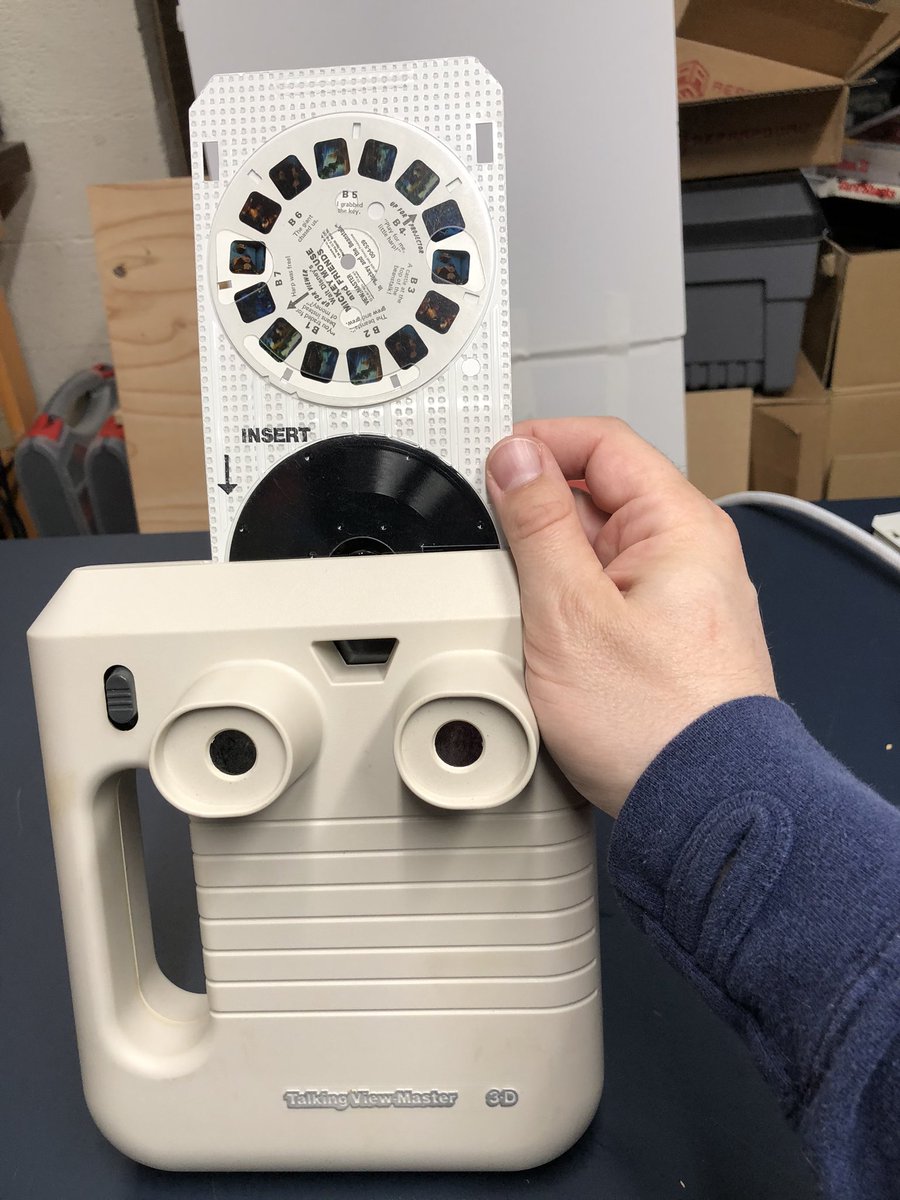 Also a beeping error indicator like an old alarm clock. It detects the cartridge but cannot play it. So what's inside?
Belt driven, various contact switches to detect correct insertion, stylus in the right half shown here. Not sure how to get the motor to run when open like this.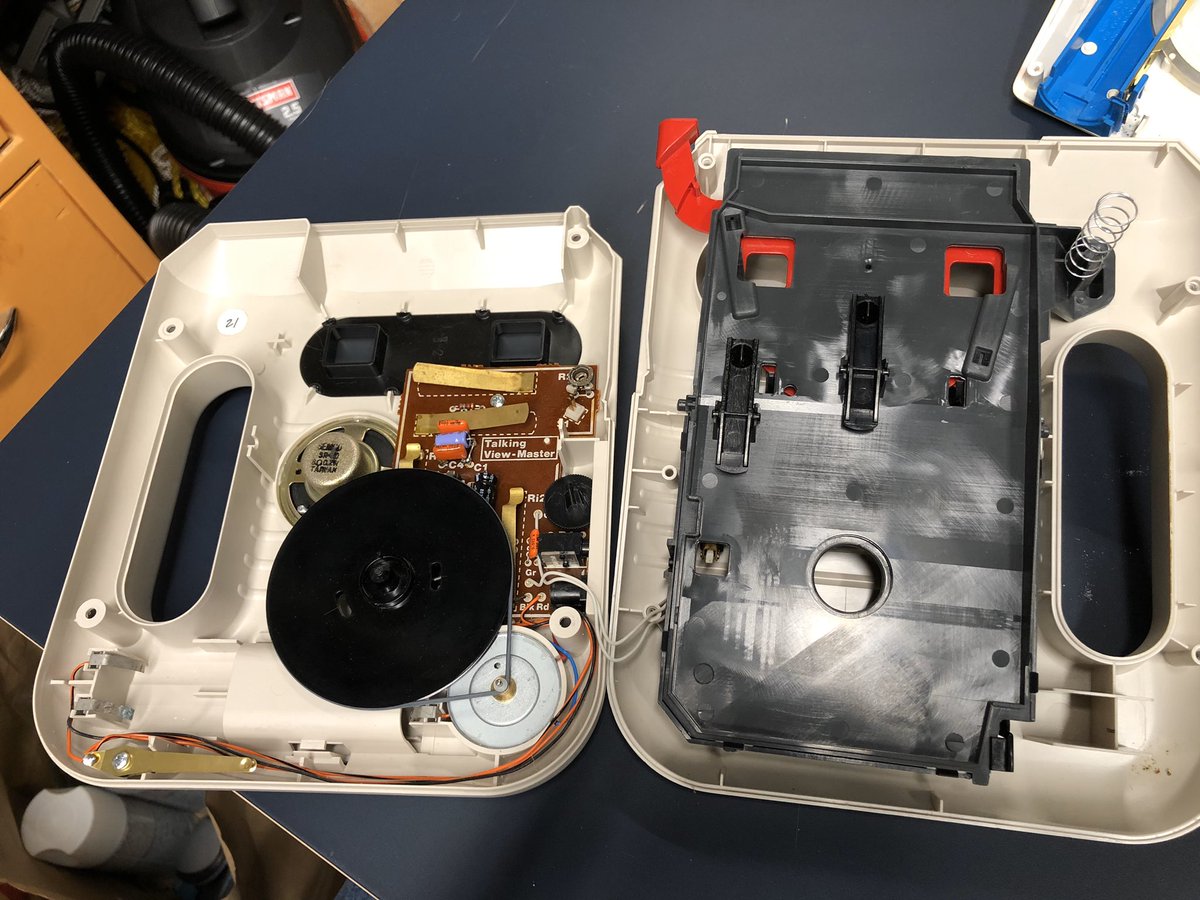 I can get the beeps with the contacts at the bottom. Not sure what else yet. Needs experimentation.
All the coolest stuff in the sale listing was gone by the time I got there, but I found other treasures. This portable cassette player and recorder takes AAs and is quite stylish in its leather case.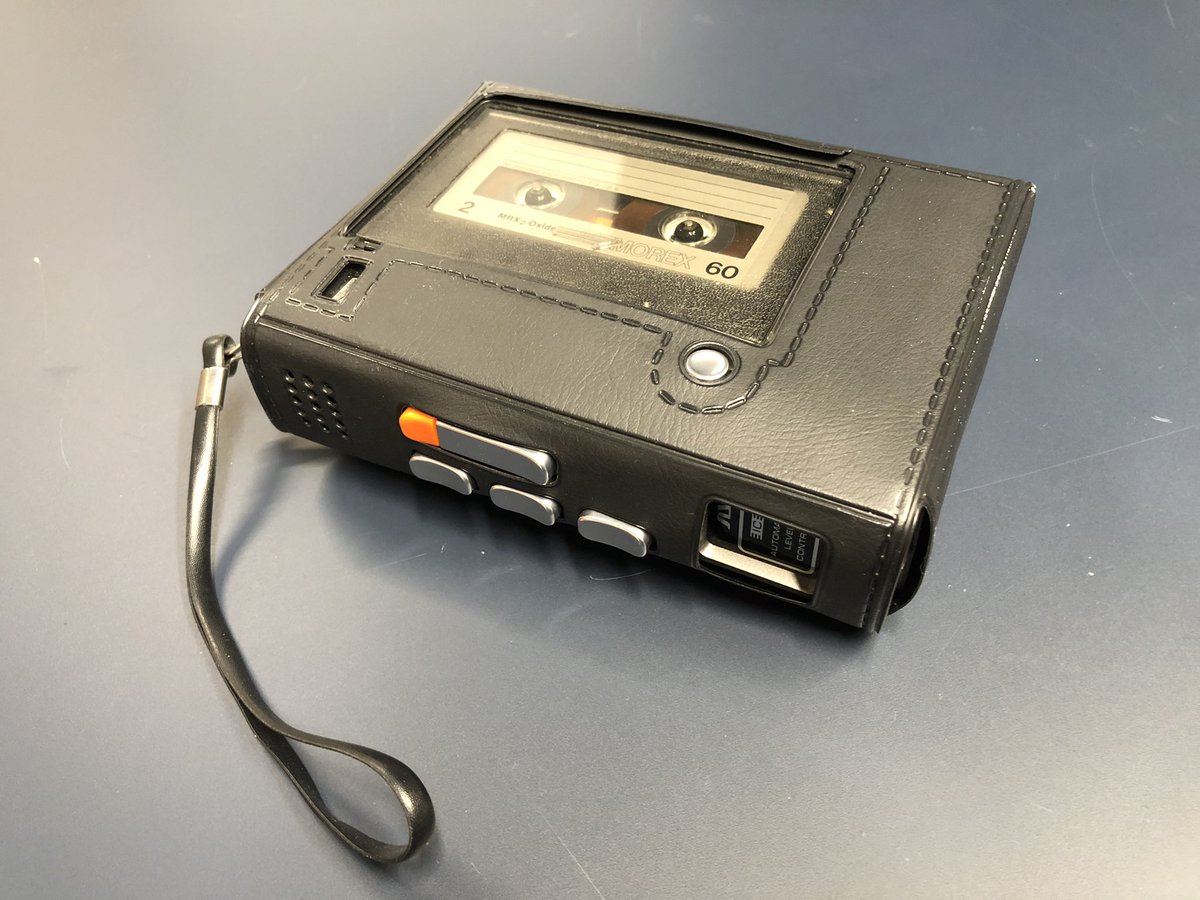 Needs a bit of repair love though. The playback motor doesn't catch the right sprocket thingy. Seems fixable, but won't play in this condition. I wonder what's on the included tape.
Jerry had several handheld electronic games, the kind I remember getting my grandfather for Christmas because I didn't know what else to get him. Vintage baseball and poker, and more modern poker and Solitaire.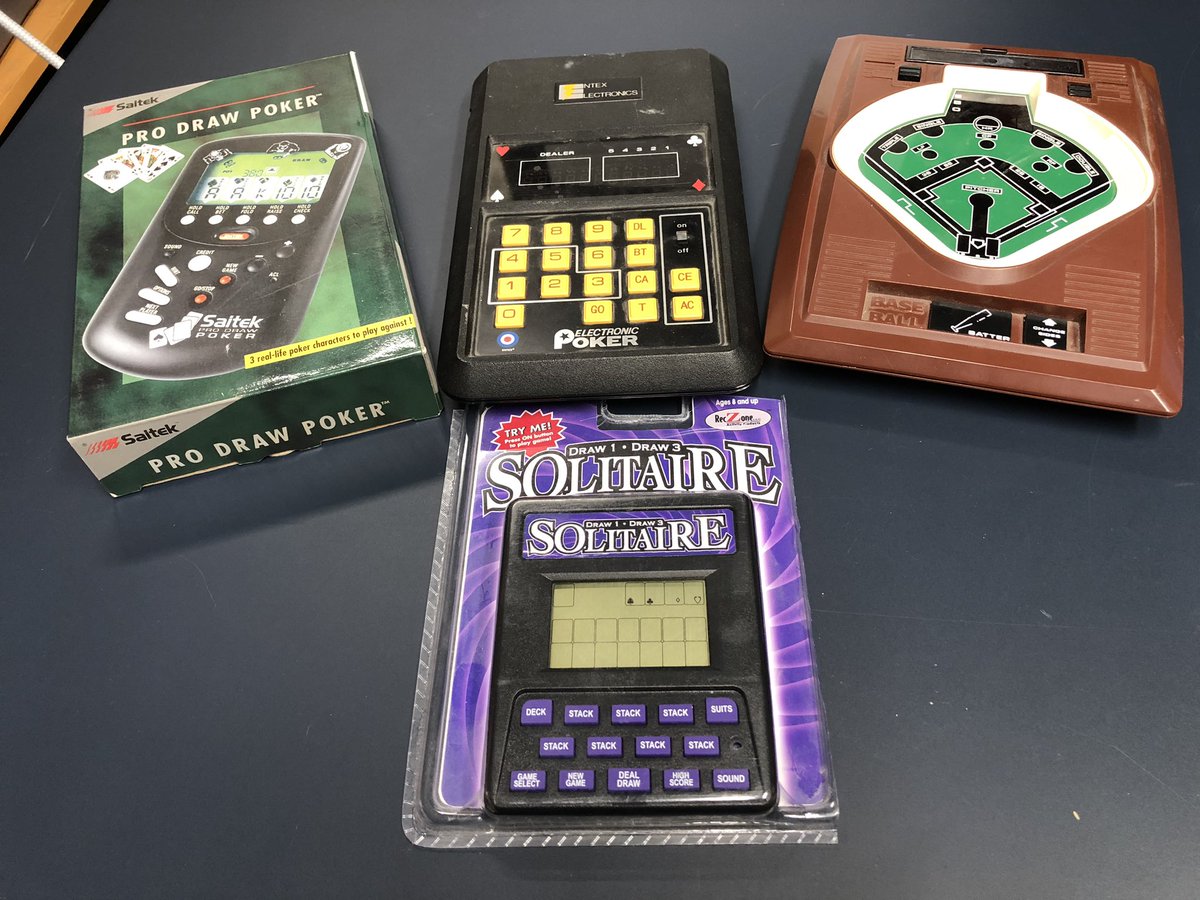 Me trying to figure out Solitaire while holding my phone. Jerry kept this in the original packaging so as not to lose the instructions, for which I'm grateful. Original battery still works.
Baseball wouldn't turn on and the battery door felt like it was glued in. When I finally popped it open bits of corrosion and dried battery acid went everywhere. Tried to open it further but it's a total loss.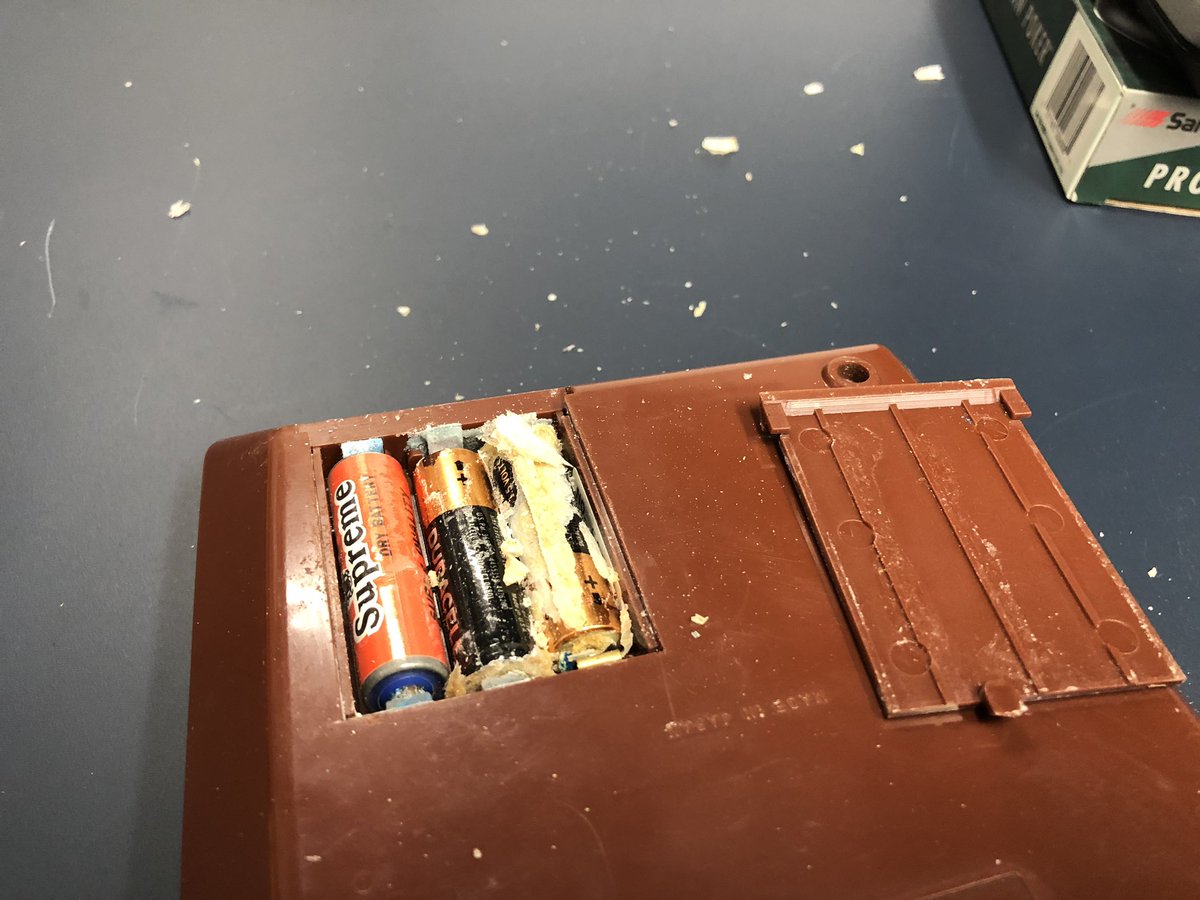 Vintage poker has minor corrosion but still works even with the original batteries.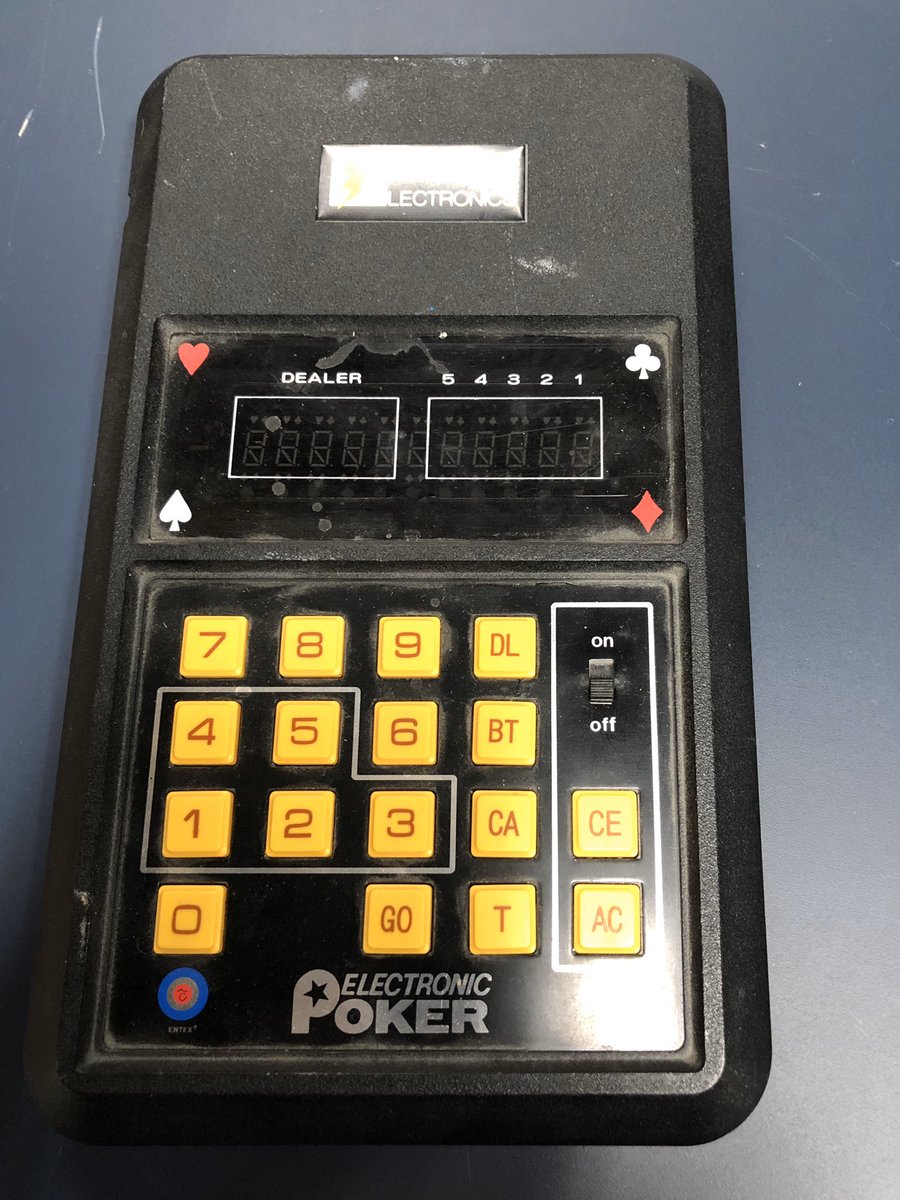 Entecs Electronics Poker in action.
The Sharp Talking Time II talking portable alarm clock! Takes obsolete MR9 batteries so I don't have it working yet. Apparently you can buy expensive adapters for modern hearing aid batteries to MR9, but I'll probably just hack something in. Later, though.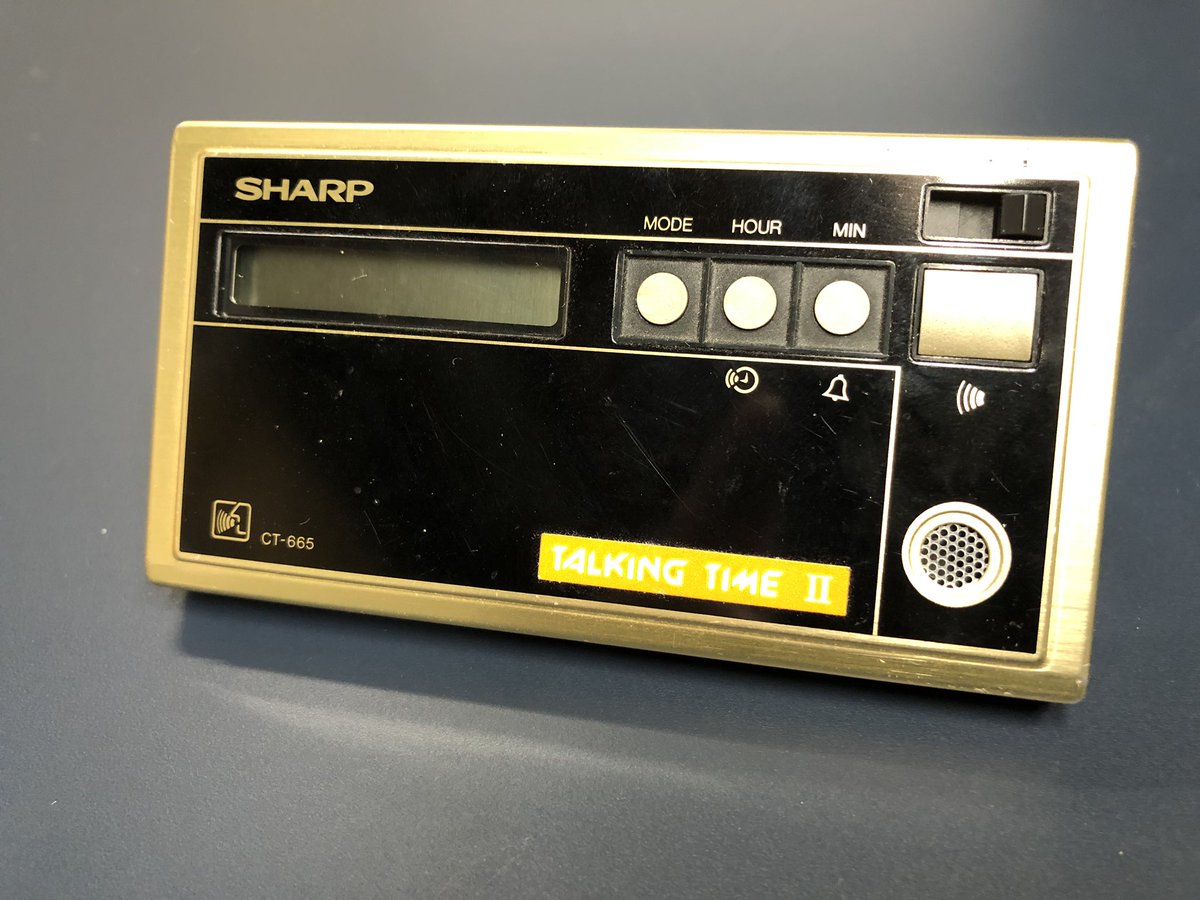 The Crossword Companion! Crossword puzzles on a paper roll with a plastic viewer/player, just write directly on the roll. With faux leather case and extra rolls.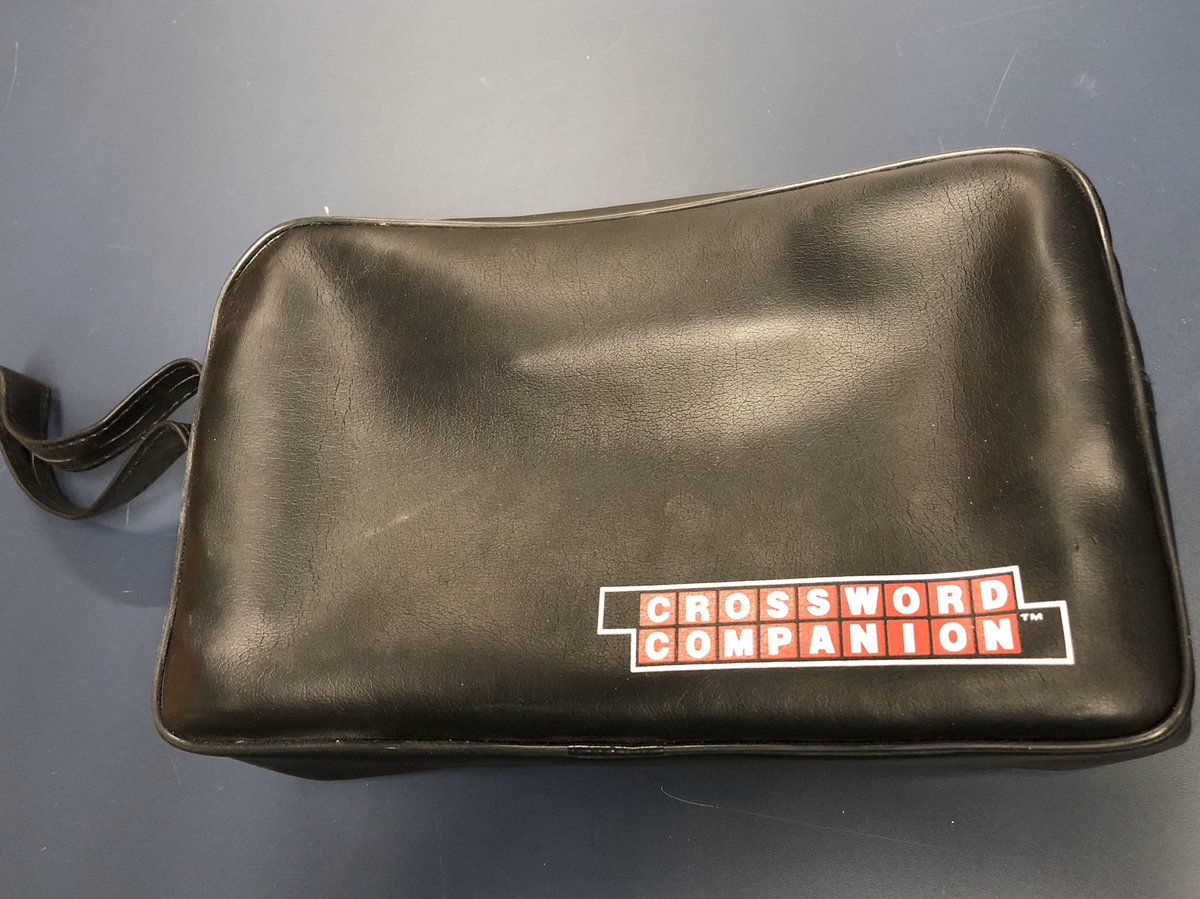 Video of the sweet crossword rolling action. I vaguely remember these being including with your subscription to the New York Times, I think?
"Why not just use a book of crosswords?" you ask. Well this thing has a battery compartment and a switch. For the backlight! Trying doing a book of crosswords in the dark, I'll race you.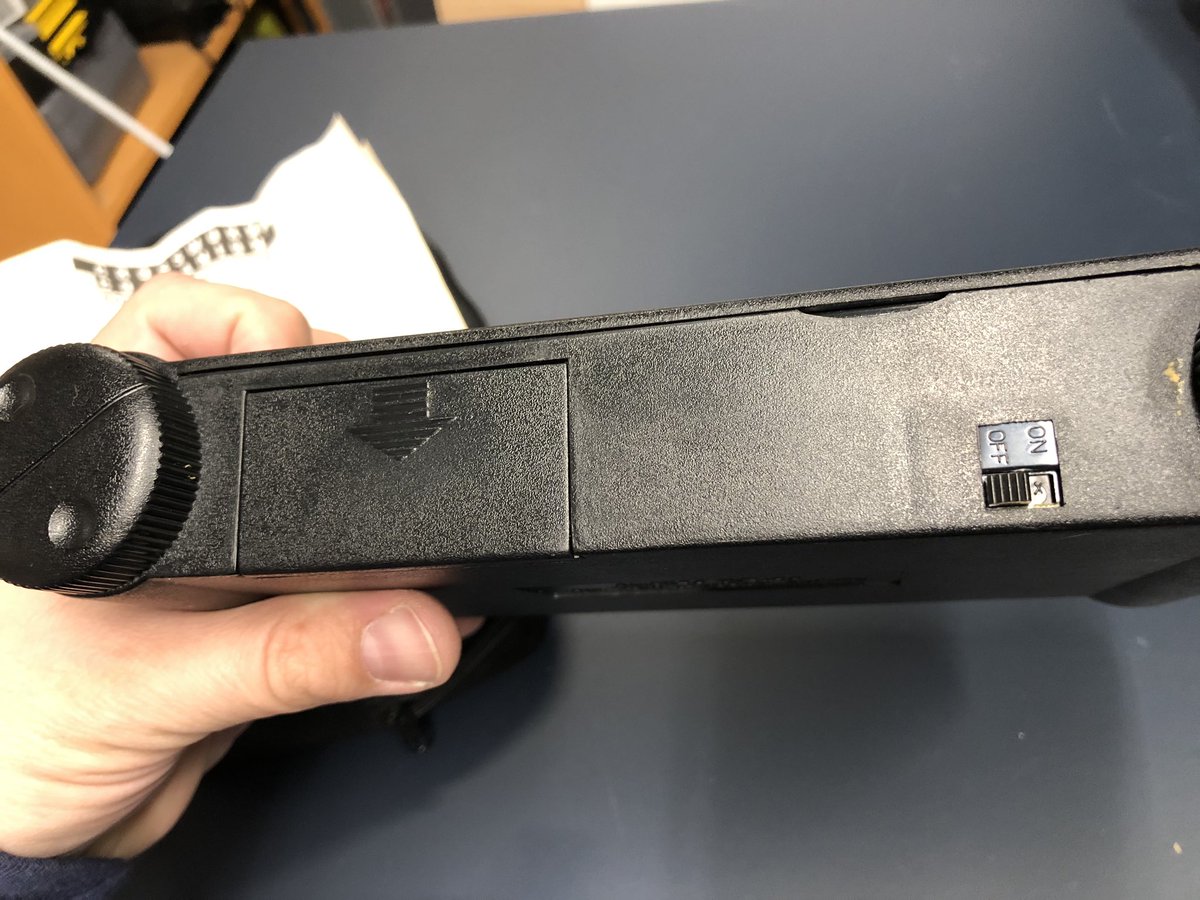 The crossword thing came with rolls of thermal paper because the estate sale people figured rolls of paper must go together. (I appreciate all they do, it's just funny.)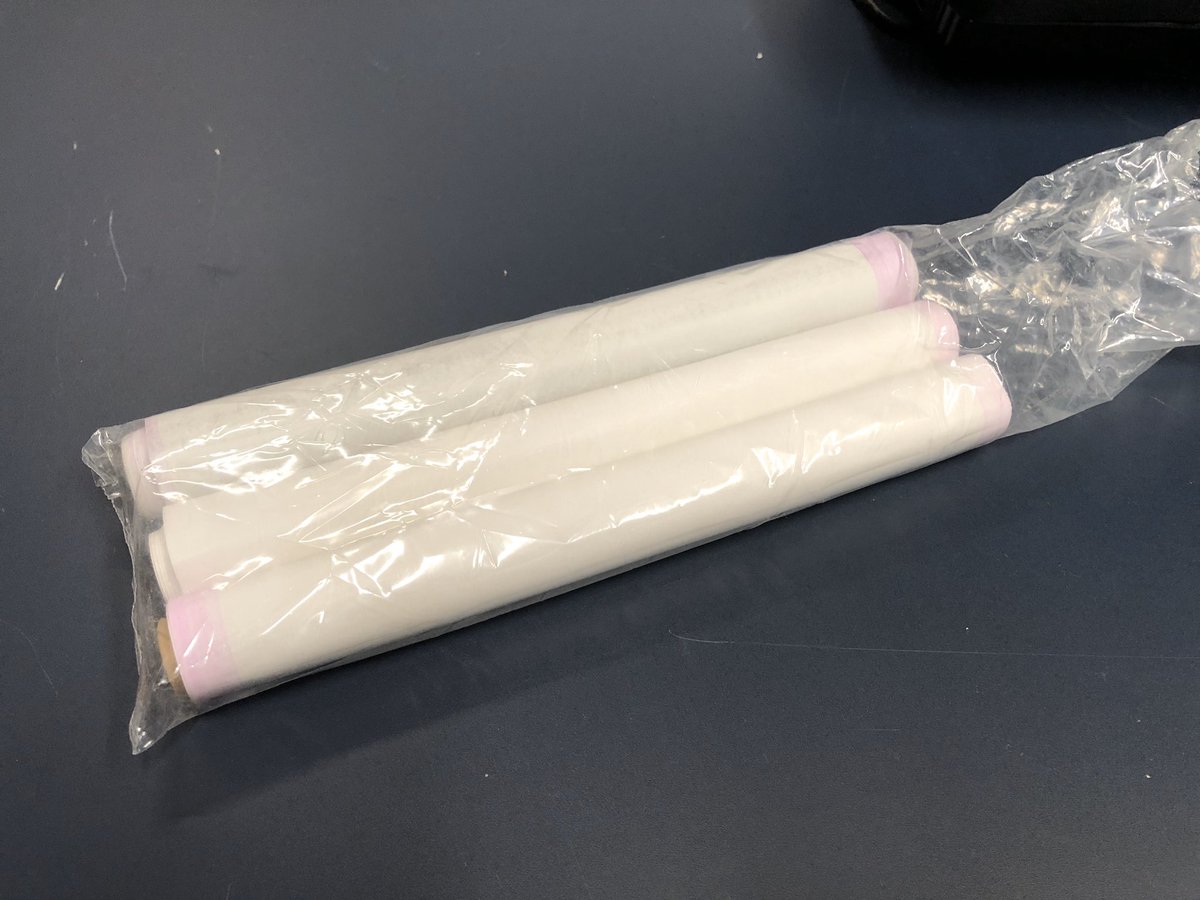 Jerry had a pretty complete set of Bantam Agatha Christies. I only took a few. Also a small stack of sheet music from which I grabbed a few things.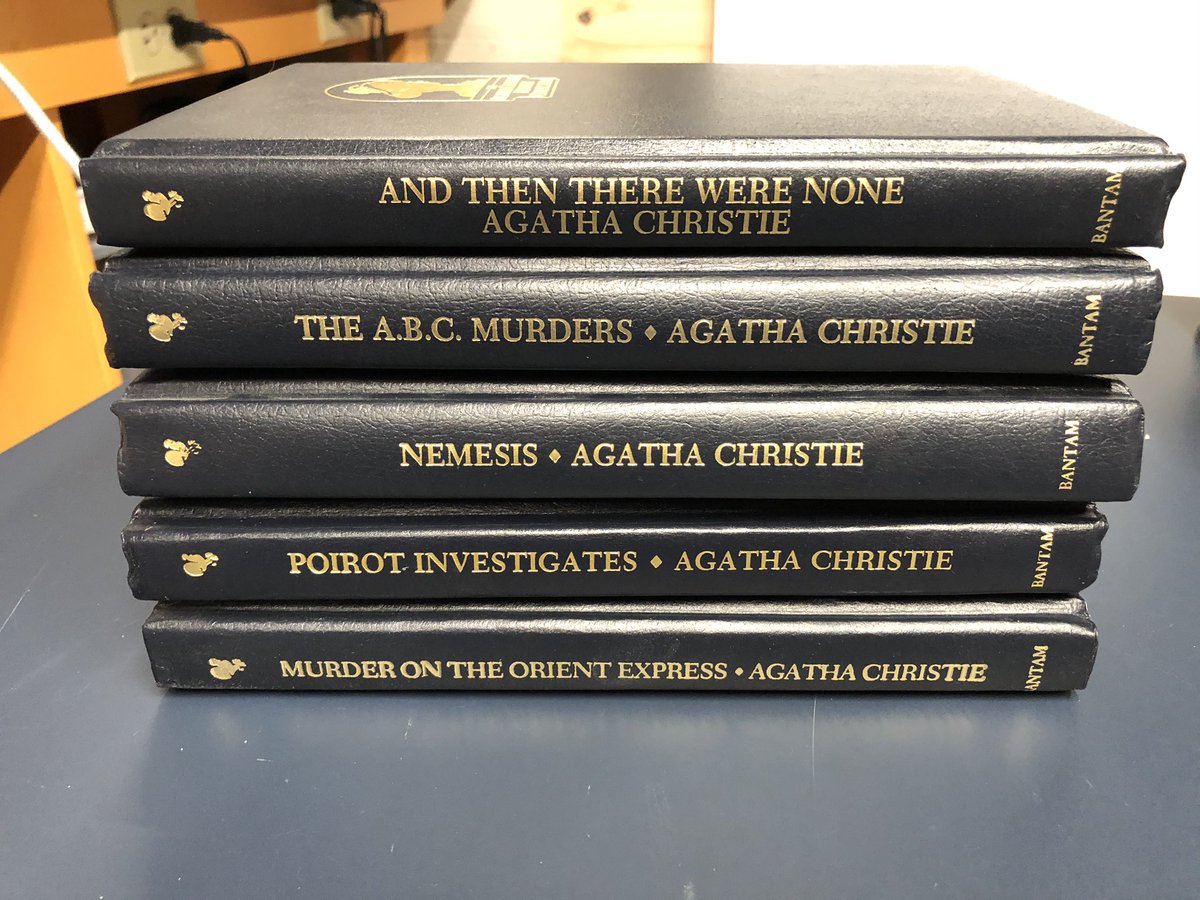 … except the Sound of Music wasn't sheet music, I only just noticed today. It's a vintage program! Still need to confirm what production this is, the program is undated (smart).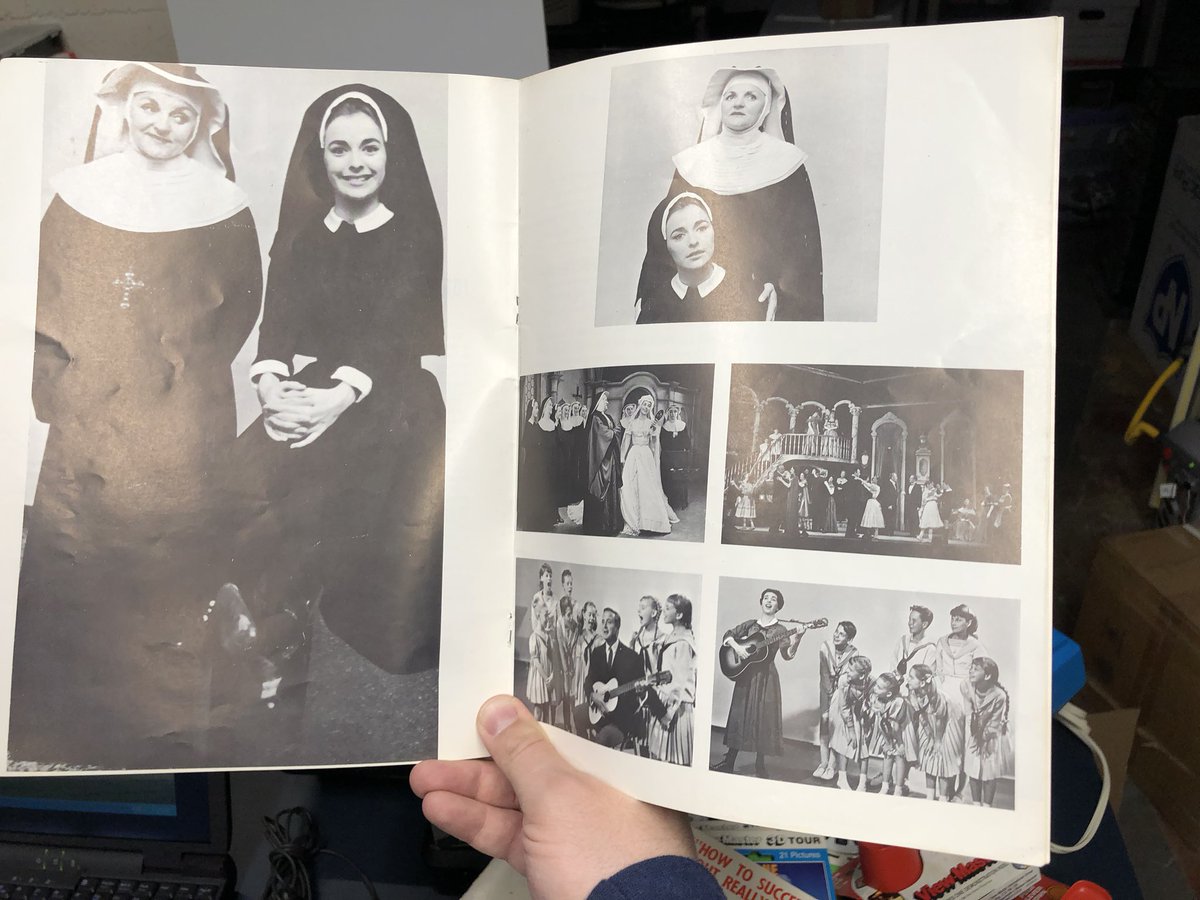 The modern handheld poker in action, which shuffle sound effects.
The estate had several old computers, which weren't attracting much interest from sale goers. But I was in town for the Portland Retro Gaming Expo and all about that vintage hardware! Here's a Dell Latitude CPi Pentium II laptop I got for $10.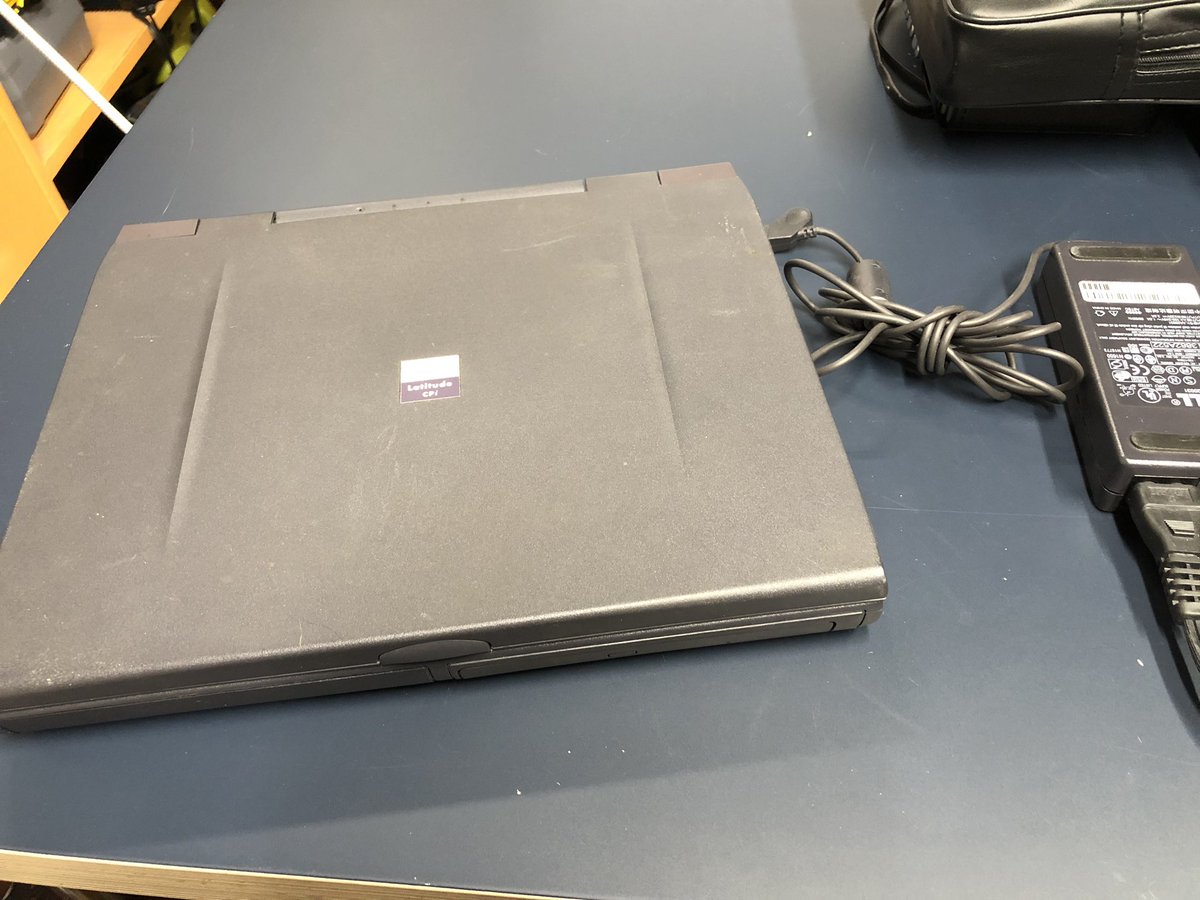 WinXP partition boots, Win2k partition corrupt. Mostly used for email over AOL dialup (I tried not to pry). Needs cleaning, but works.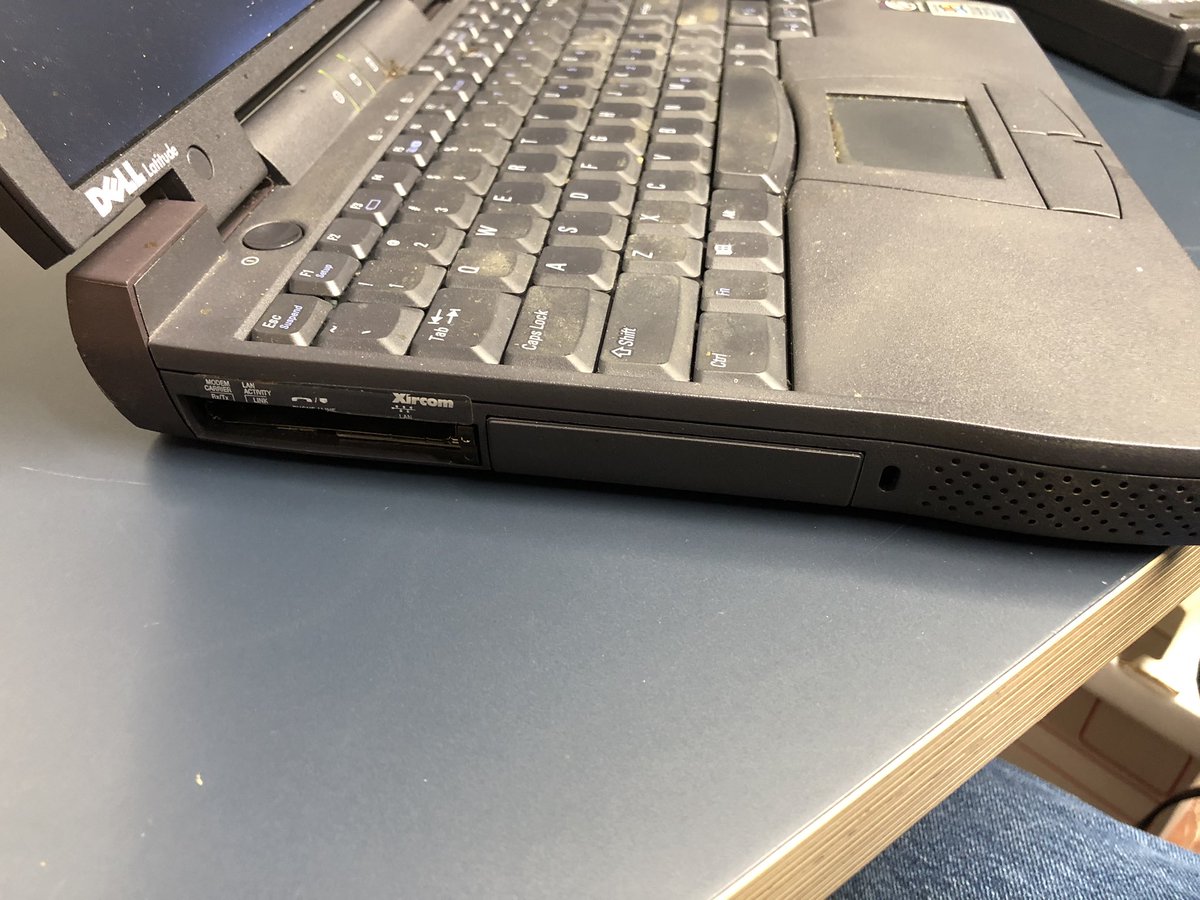 And lastly a desktop PC with CRT display, serial peripherals, floppy and CDROM drives. Hard drive does not boot but unit POSTs fine with BIOS settings.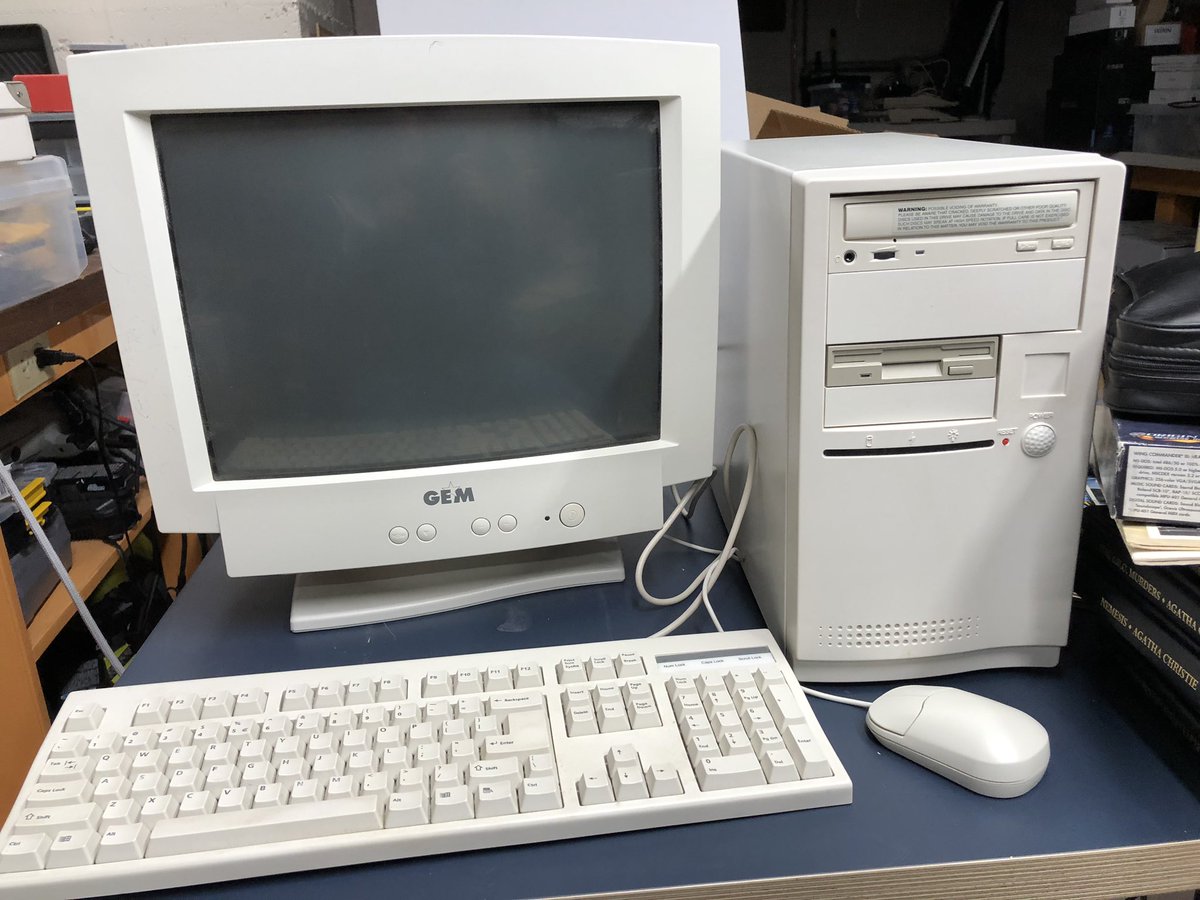 Wing Commander III was not Jerry's, I got this at PRGE and wondered if I'd ever find a PC to play it on. Little did I know I would get one the very next day for $20! Need to hit a goodwill for a joystick.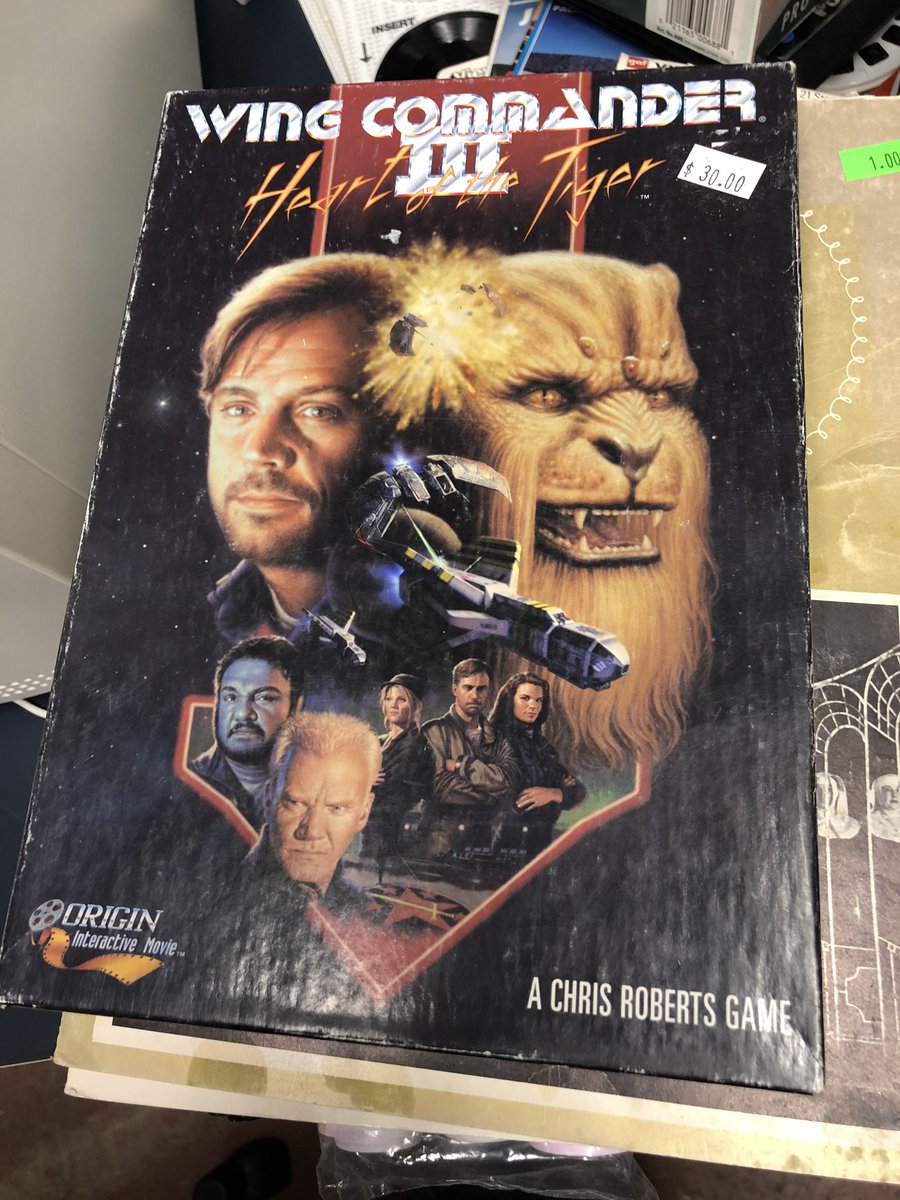 That's it! A fun sale, had a great time meeting people in line and getting to know Jerry through what he left behind. I don't expect every estate sale is like this and am glad I was in town for this one. Thanks again to @cabel for posting about it. Now to do some crosswords…
@cabel OK obviously the Talking ViewMaster Bambi reel audio is of Faline introducing herself to Bambi, not Thumper. Also I don't think "Let's be friends forever" is in the movie. Watch a clip and look how incredible this film is. youtube.com/watch?v=qenph6…
(Originally posted to Twitter on November 4, 2019. It received 10 likes.)